---

Huge Body Kits Sale!
Andy's Auto Sport carries more than 40 different brands of body kits, more than any other company in the world, and right now we are running a huge sale on some major lines! Whether you are looking for Xenon body kits in urethane, or Extreme Dimensions body kits with Duraflex, we have cheap body kits that are priced right for you!
---

Free shipping on all lambo door kit orders!
For a limited time, pay absolutely no shipping charge for any lambo door kit we sell! The price you see on our website is the total you'll pay for your lambo doors, to your doorstep. Choose from several brands, including Vertical Doors Inc, Autoloc, GT Factory, and Glide! Visit our lambo doors center to check it out! Visit our
lambo doors
center!

Check out Andy's Auto Sport TV!
At Andy's Auto Sport, we're committed to helping our customers make informed buying decisions. We now have our own studio where we produce video episodes that are intended to educate our customers about the products we sell in a fun and entertaining way! We call our video product arm Andy's Auto Sport TV, and we think you'll enjoy what you see.
Click here to check out some episodes!
---

Euro Tail Lights and Projector Headlights On Sale!
Anzo altezza taillights are on sale. Huge variety of projector headlights and euro taillights are available. Customize your car or truck today!

Body Kits by Andy's!
Aside from having more than 3.2 million product listings on our website from more than 250 different manufacturers, we also offer our own exclusive line of
body kits
found no where else. Check it out!

Truck Hoods and Car Hoods On Sale!
Fiberglass hoods from Keystone Restyling are on sale. They have a lot of great styles, including cowl induction hoods and ram air hoods. Also notice our huge selection of carbon fiber hoods!

Cold Air Intakes On Sale!
Check out Injen's Power-Flow air intakes. Their truck intakes infuse huge power gains. If you want more power, buy a truck intake today!
» NEWS




Coupons for Andy's on Facebook and Twitter
Do you have a Facebook account? If so, just become a fan of Andy's Auto Sport, and you'll get access to great deals on car parts that are exclusive only to Facebook members!
Click here to see the Andy's Auto Sport Facebook page
, and then click the gray button near the top that says "Become a Fan"!

Or are you more into Twitter than you are into Facebook? If you "follow" Andy's Auto Sport on Twitter, you'll get access to car parts deals exclusive to only our fellow tweeters!
Click here to see the Andy's Auto Sport Twitter page
, and then click the little button with a + sign in it below our logo on the page to follow Andy's on Twitter.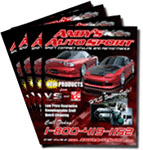 Car Parts Catalogs Are Available!
We now have our vibrant full color catalogs available once again. They're free, and contain thousands of
car parts
and
truck parts
including everything from body kits to lambo doors to carbon fiber hoods. Also included are coupons to help you save on your purchases.
Click here to order your catalog today!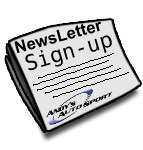 Sign up for the Andy's Auto Sport Newsletter!
We send out an email newsletter periodically that's packed with a lot of value. We include new coupons that you can use at Andy's and will let you know if we have any blazing hot promotions on your favorite brands! We also announce new how-to product videos that we've come out with, and we make sure you're made aware of all the newest brands we carrying.
Click here to add your email address
so you can get our email newsletter!

New Ford Mustang Body Kits
VFiber just released the newest Ford Mustang body kits. The feature body kit today is the Blits 4PC Full Body Kit for the 2005-2009 Ford Mustang.
Click here for details.

Learning Center
Do you have questions about how different parts we sell will improve your car or truck? Do you want to know the difference between poly-urethane body kits and fiberglass body kits? Do you want to know the difference between bolt on lambo doors and universal lambo doors? Then check out our learning center! We have all the answers you're looking for and more. If you're looking for a great informational resource to learn about all the different products that are available to enhance your vehicle, then you have to take a look.
Click here
to check it out.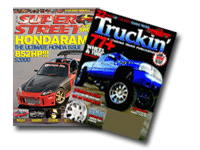 In the Media
Do you want to know more about Andy's Auto Sport?
Click here
to see some of our public exposure in the media. We've done a whole lot of things to get public attention and to merit international recognition! Our body kits have been featured in Pimp My Ride, Superstreet, and Import Tuner, among others media outlets. We are renowned as a leader in the automotive industry, and are widely regarded as a top rate auto parts retailer with an outstanding selection of parts. Most consider us the body kits capital of the world.Check out our media exposure for yourself!
» SITE SHOPPING CENTERS



» LINKS



» POWERED BY









» FEATURED VEHICLES



ACURA
CL, Integra Body Kits, Legend, NSX, RL, RSX Body Kits, SLX, TL, TSX, Vigor
AUDI
A4 Body Kits, A6, A8, S4, TT
CADILLAC
CTS, Escalade Body Kits, Seville, Eldorado
CHEVY
Astro, Avalanche, Aveo, Beretta, Blazer, Camaro, Caprice, Cavalier Body Kits, C1500, Cobalt, Colorado, Corsica, Corvette, Lumina, Malibu, Monte Carlo, Pickup, Prizm, S10 Body Kits, Silverado, Suburban, Tahoe, Trailblazer
CHRYSLER
300M, Cirrus, Concorde, Crossfire, Lebaron, Neon Body Kits, Pacifica, PT Cruiser, Sebring Body Kits, 300C Body Kits
DAEWOO
Lanos, Leganza, Nubria
DODGE
Avenger Body Kits, Caravan, Challenger Body Kits, Charger Body Kits, Dakota Body Kits, Durango, Intrepid, Magnum Body Kits, Neon Body Kits, Ram, Stealth, Stratus, Viper
FORD
Bronco, Contour, Escape, Escort Body Kits, ZX2 Body Kits, Excursion, Expedition Body Kits, Explorer, F150, F250, F350, Focus Body Kits, Mustang Body Kits, Probe, Ranger, Taurus, Thunderbird
GEO
Metro, Prizm Body Kits, Storm, Tracker
GMC
Canyon, Envoy, Jimmy, S15, Safari, Sierra, Sonoma Body Kits, Suburban Body Kits, Yukon
HONDA
Accord, Civic Body Kits, Si, CRV, CRX Body Kits, Del Sol Body Kits, Element, Odyssey, Passport, Pilot, Prelude Body Kits, Ridgeline, S2000 Body Kits
HYUNDAI
Accent Body Kits, Elantra, Santa Fe, Sonata, Tiburon Body Kits
INFINITI
FX, G20, G35 Body Kits, I30, Q45, QX4
ISUZU
Amigo, Hombre, Rodeo, Stylus, Trooper
JEEP
Cherokee, Comanche, Grand Cherokee, Liberty, Wrangler
KIA
Rio, Sephia, Spectra, Sportage
LEXUS
ES300, GS, IS300, LS, LX450, LX470, RX, SC
LINCOLN
Navigator Body Kits, LS
MAZDA
626, 3, 6, Miata Body Kits, B Series, Millenia, MX3 Body Kits, MX6 Body Kits, Pickup, Protege, RX7 Body Kits, RX8 Body Kits, Tribute
MERCURY
Capri, Cougar Body Kits, Mystique, Tracer
MITSUBISHI
Eclipse Body Kits, 3000GT, Diamante, Mirage, Galant, Lancer Body Kits, Evolution, Montero, Outlander, Starion
NISSAN
240SX Body Kits, 200SX, 300ZX, 350Z Body Kits, Altima, Armada, Frontier, Maxima Body Kits, Murano, NX, Pathfinder, Pickup, Pulsar, Sentra Body Kits, Skyline, Titan, Xterra, 370Z Body Kits
OLDSMOBILE
Alero Body Kits, Aurora, Bravada, Cutlass, Intrigue
PLYMOUTH
Breeze, Laser, Neon Body Kits, Prowler, Sundance, Voyager
PONTIAC
Fiero, Firebird Body Kits, G6, Grand Am Body Kits, Grand Prix Body Kits, GTO, Sunbird, Sunfire Body Kits, Trans Am Body Kits, Vibe
SATURN
Ion Body Kits, SC Body Kits, SL Body Kits, Vue
SCION
Tc Body Kits, xA, xB Body Kits
SUBARU
Baja, Forester, Impreza Body Kits, WRX Body Kits, Legacy, Outback, SVX
SUZUKI
Aerio, Esteem, Samurai, Sidekick, Swift, Vitara
TOYOTA
4runner, Camry, Celica Body Kits, Corolla Body Kits, Echo, Land Cruiser, Matrix, MR2 Body Kits, Paseo, MRS, Pickup, Rav 4, Sequoia, Solara, Supra Body Kits, T100, Tacoma, Tercel, Tundra
VW
Beetle, Cabrio, Corrado, Golf, Jetta Body Kits, Passat, Scirocco, Touareg
VOLVO
850, C70, S40, S60, S80, V40, V70, XC70, XC90
BMW Body Kits, BUICK, HONDA Body Kits, HUMMER Body Kits, JAGUAR, MERCEDES Body Kits, car body kits
» POPULAR PRODUCTS



Body Kits
Lambo Doors
Ground Effects
Car Hoods
Escalade Body Kits
Soft Tonneau Covers
Scion tC Body Kits
Euro taillights
Scion tC Body Kits
Pickup tonneau covers
Cowl Induction Hoods
Performance Air Filters
Clutch Kits
Carbon Fiber Hoods
Cat back exhausts
Eclipse Body Kits
Fiberglass Hoods
Car Body Kits
Cold Air Intakes
Euro Tail Lights
Nitrous Oxide Systems
Honda Civic Body Kits
Racing Seats
Truck Nerf Bars
Projector Headlights
Truck Body Kits
Hard Tonneau Covers
G35 Body Kits
Lambo door hinges
Car Seat Covers
BMW Body Kits
Performance Mufflers
SUV Exhaust Systems
Fiberglass Hood Scoops
Truck tonneau covers
Body Kits for cars
Vertical Door Kits
Performance Exhaust Systems
Truck Hoods
Altezza Tail Lights
Superchargers
BMW Body Kits
Nerf Bar Steps
Altezza taillights
Car Exhaust Systems
S-10 Body Kits
Ram Air Hoods
Vertical Doors
Dual Exhaust Systems
Mercedes Body Kits
Tonneau Bed Covers
Mustang Body Kits
Car Parts
» Andy's Installations



Andy's offers an installation service. If you want to have us install your performance products, then
click here
to find out more details or schedule your appointment today!