EXTERIOR
INTERIOR
LIGHTS
PERFORMANCE
SUSPENSION
BRAKES
DRIVETRAIN
AUDIO
WHEELS
GARAGE
StopTech Drilled And Slotted Rotor - Front Right

Position : Front
Type : Slotted - Cross-drilled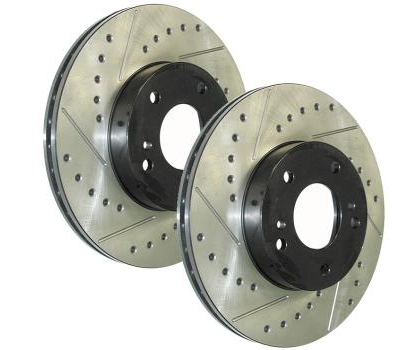 We did your comparison shopping for you!
Why are we showing competitor prices? Click Here
Video Description:


Slotted versus Drilled Rotors on Andy's Auto Sport TV

Video Description:


So, what's the difference between the different types of brake rotors that are available here at Andy's Auto Sport? Check out this video and we'll show you!

*At 0:15, we show you what "drilled," "cross-drilled," "slotted," and "vented' mean when it comes to brake rotors.

Video Description:


In this video, we explain brake fade and how to avoid it. Highlights include:

*At 0:20, we tell you what brake fade is and the conditions under which they occur.

*At 1:00, we tell you how to reduce brake fade by upgrading your braking components.
Fits On:

2002-2010 Lexus Is 250, Is 300, Is 350
Description:
StopTech's one-piece direct replacement drilled and slotted rotors fit stock calipers. Drilling or slotting helps wipe away the debris that forms between the pad and the disc, adds more bite, and give your vehicle the aesthetics of having a big brake kit.

These drilled and slotted rotors will give dramatically better braking power over your factory rotors. They will give better braking power even than the Stoptech drilled rotors, since being both drilled and slotted gives the rotors even better braking power than rotors that are just drilled.

The rotor finish helps prevent glazing of the pads and improves wet and dry braking performance. StopTech rotors have a durable black coating on the non-swept areas of the rotor to prevent unsightly corrosion.
StopTech is based out of Southern California and is undeniably one of the premier performance brake manufacturers in the world. They partner with a number of successful motorsports teams to equip race vehicles with their world class brake products. StopTech has to date received three patents in brake technology.

StopTech rotors are the real deal. StopTech doesn't just talk the talk and claim their brakes are the best; they walk the walk and have proven in countless performance tests that their brakes are the best. Here are some examples:

*Car and Driver magazine did a stopping test among several Dodge Vipers, each equipped with different brands of brake products. The StopTech-equipped Viper had the shortest stopping distance of any according to Car and Driver.

*Sport Compact Car magazine did a stopping test among several Nissan 350z vehicles, and the one with the StopTech brakes had the shortest stopping distance.

*Speed magazine did a comparison of stopping times for a variety of Vortech supercharged Mustangs, and the StopTech-equipped one had the shortest stopping distance.

*European Car magazine did a stopping test for the Audi S4, and found that the StopTech-equipped S4 had the shortest stop in the 0-60mph and the 0-80mph challenges.
Q: Do rotors come in sets of 4?
A: Rotors are sold individually, per side, unless otherwise noted on our website. Rotors should normally be replaced in sets of two; you should buy 2 rotors for the front, or 2 rotors for the rear, or all 4 at once.

Q: What are brake rotors?
A: Rotors are the flat disk-like plates that provide friction for the brake pads to slow down your car. Some rotors have cooling fins between both faces are called "vented" rotors, or drilled which are called "cross-drilled" rotors. Replacing your factory rotors with aftermarket rotors will improve your braking power, which can be a high priority if you add performance parts to your car. You don't want to beef up the performance of your car without also improving your stopping power.

Q: How do you install rotors?
A: Rotors are installed by removing the entire brake assembly and caliper. Once removed, the factory rotor is taken off and the aftermarket rotor is installed. Everything is re-installed back together. Installing new brake pads is usually done at the same time rotors are being replaced.