EXTERIOR
INTERIOR
LIGHTS
PERFORMANCE
SUSPENSION
BRAKES
DRIVETRAIN
AUDIO
WHEELS
GARAGE
Champion Aluminum Radiator - 2 Row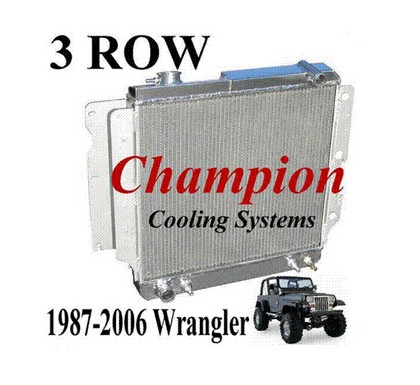 We did your comparison shopping for you!
Why are we showing competitor prices? Click Here
Video Description:


Few things are forever, and that includes anti-freeze. In this video, we show you how to tell if your coolant is past its expiration date or mixed at the wrong ratio. Highlights include:

*At 0:12, we talk about the reasons your engine needs coolant/anti-freeze.

*At 0:30, we show you how to test your coolant.

*At 1:50, we remind you about the proper precautions to take when discarding used anti-freeze/coolant.

Video Description:


Check out this video we made that explains all the basics you need to know about buying a radiator. In the video, we give information that helps explain the difference between a factory replacement radiator and a performance radiator. We also explain why it's so critical to get a performance radiator if you intend to run a high horsepower vehicle.

Video Description:


In this episode we interviewed Matt Dawson from Champion Radiators to help our customers learn more about the brand. Champion also makes the American Eagle brand of radiators. Here are some key points in the video:

*At 4:26, they talk about how the 2-row radiators is still a better performance radiator than the factory radiator since it has a better size of tubes. They then talk about the 3- and 4-row radiators they make.

*At 6:35 they talk about how all their radiators are all tig-welded and braced, and no epoxy is used. This allows radiators to go through the heat cycles without a problem.

*At 10:40 Matt says Andy's Auto Sport does a great job of serving customers!
Fits On:

87-04 YJ 2.4, 2.4, V4, 4.0, 4.2, V6
Description:
• All aluminum tanks, cores, brackets and welds, absolutely no epoxy
• Higher density core: cooling rows are spaced 3/8" apart: giving you 25% more rows than any others in Champion's price range and 35% more rows than OEM copper
• Aluminum dissipates heat more efficiently than copper or brass
• 14-16 cooling fins per inch giving you approximately 1,500 more cooling fins than other aluminum radiators and approximately 3,000 more than OEM copper radiators
• Lighter weight
• Outperforms other 2 row aluminum as well as 3 and 4 row copper radiators
• High performance appearance.
• Billet Fill Neck
• Aircraft Grade Aluminum 2MM Thick Fittings and Tanks
• 100% TIG Welded
• High Performance 16lb Cap Included
• Brazed Core Technology
• OEM Style Brass Petcock Located on Back of Tank

The differences among Champion's different types of radiators are:
Economy Series 2-Row: Gives you performance on a budget
Standard Series 3-Row: Better performance than the 2-Row, but with an added cost
Monster Series 4-Row: All-out show car look and performance

2 Row Core Thickness: 1 3/4
3 Row Core Thickness: 2
3 Row Tank Thickness: 2 1/2
4 Row Core Thickness: 2 3/4
4 Row Tank Thickness: 3 1/8
Core Dem: 18 1/2 x 20
Overall: 23 1/2 x 25 1/2
Hose Locations: In - Pass / Out - Driver
Hose Fittings: In - 1 1/4, Out - 1 1/2
Trans/Heater: Yes
Mounting Type: Bracket Mount
Bracket Specs: Vert - 13 1/4, Hor - 24 3/8
Champion Radiators, based out of Orange, California, is a company that develops high-quality cooling products. By using some of the highest quality aluminum in their ISO-certified factory, the products from Champion reflect their mantra of quality over quantity. With lifetime guarantees on their radiators, Champion Radiators looks out for the satisfaction of their customers.
Q: What is a radiator? Why buy a radiator?
A: A radiator is a device that cools the entire engine by using a water and antifreeze mixture. The mixture flows through your cooling system, passing through the radiator and back where it is cooled again by convection with the air. Aftermarket performance radiators offer 30% more cooling than standard radiators in many cases, and are great for high performance motors. When your engine is cooler, your car performs better and can go faster.

Q: How do you install a radiator?
A: Radiators are manufactured specifically per vehicle application to ensure the best in fitment, just like your original radiator. Remove your factory unit and install the aftermarket radiator in its place.