EXTERIOR
INTERIOR
LIGHTS
PERFORMANCE
SUSPENSION
BRAKES
DRIVETRAIN
AUDIO
WHEELS
GARAGE
BASIC WHEEL FAQS
What is "wheel fitment"?
Wheel fitment is a term which refers to how a wheel sits inside of the fender wells. Both wheel diameter and offset are taken into consideration when determining wheel fitment, which is ultimately a personal choice of style. Suspensions, alignments, and fenders are often modified for extreme "flush" wheel fitment, where the wheels and tires are spaced out to be as close to the fender lips as possible.
Porsche 911 with popular "flush" wheel fitment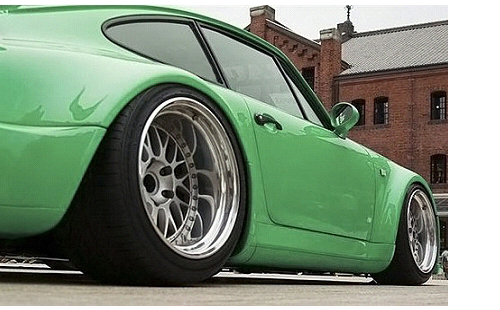 What is plus-sizing?
Various levels of plus-sizing (image courtesy of Car & Driver Magazine)

Plus-sizing used to strictly refer to installing larger diameter wheels than stock (one to three inches bigger, referred to as "plus 1," "plus 2," "plus 3," etc.) with shorter tires that closely matched the original tires' outside diameter. However, in today's age of extreme wheel fitment, some people choose to go even further and install wheels and tires that can be quite a bit larger in diameter than factory wheels (we've seen up to "plus 13"!). Of course, with many automotive manufacturers now installing larger wheels and tires within larger factory fender wells, it's easier than ever to put larger-than-life wheels on your ride.
30-inch wheels on a Chevy Silverado Truck originally equipped with 17-inch wheels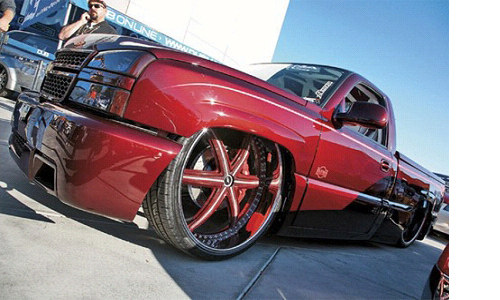 What are backspacing and offset, and what is the difference between the two? How do I know which backspacing or offset is best for me?
Backspacing refers to the distance from the rear wheel lip to the wheel's mounting surface, and is traditionally measured in inches. An easy way to measure backspacing is to lay a straightedge across the back of your wheel, making sure that it is making contact with both ends of the wheel lip, then measure the distance to the wheel mounting pad (see image below).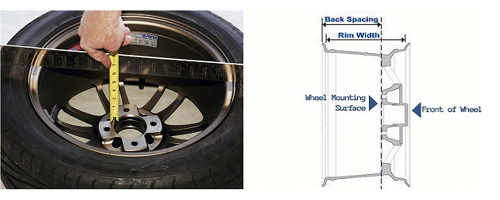 Offset, on the other hand, refers to how far from the wheel mounting surface of the wheel is from the center of the barrel. This is measured in millimeters, and a wheel that has its mounting surface exactly in the middle is said to have 0 offset. If the wheel's mounting surface is more toward the front of your wheel, it has a positive offset. If the mounting surface is closer to the rear of the wheel, it has a negative offset, and the wheel will therefore "stick out" more than a zero or positive offset wheel of the same width.
Wheel Offset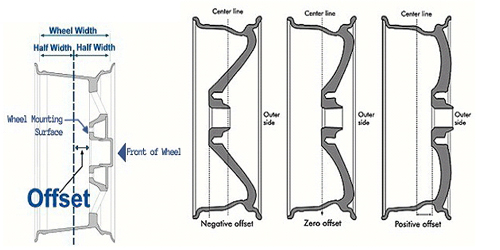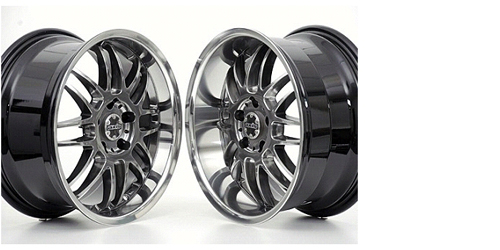 (Above)
Although these Axis Sport Apex wheels are both 17x8, they have different offsets, which can affect both the size of the wheel lip and the curvature of the wheel spokes. The wheel on the left has a higher offset than the wheel on the right, giving it a shallower lip and flatter spokes. In many instances, however (see below), the difference will remain largely unseen due to the offset differences being built into the rear mounting pad.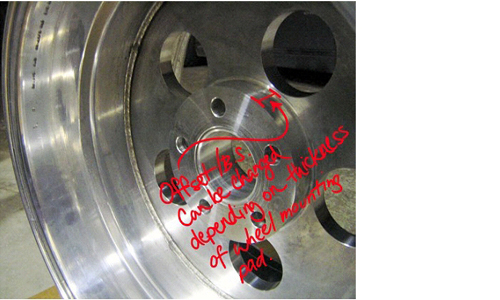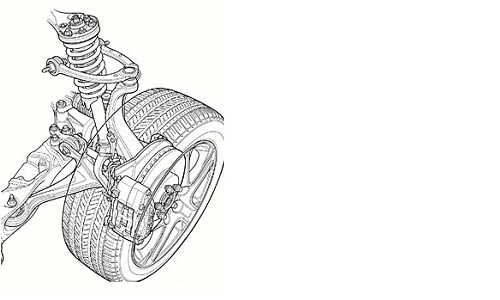 (Above)
Getting your backspacing and offset just right is a crucial component of picking the right wheels. If the wrong backspacing/offsets are chosen, your new wheels might rub on vital suspension components such as your control arms or spindles. The good news is, Andy's Auto Sport has made things easy for you by choosing the proper wheels in the proper measurements for your year, make, and model vehicle. This ensures that you will have years of safe, trouble-free motoring with your new rolling stock.
When choosing between multiple many widths and offsets of wheels for your vehicle, keep in mind that the lower the offset, the further out the wheels will protrude, giving you more of a flush look than another wheel of the same width in a higher (more positive) offset.
If I get bigger wheels, will it affect the handling of my vehicle?
Going too large with a wheel and tire combo can certainly skew your vehicle's handling characteristics, but when done within reason (a general rule of thumb is no more than "plus 3") your vehicle can actually achieve improved cornering and handling abilities, as well as better steering response. Keep in mind, though, that going too large (say, putting 24-inch wheels on a vehicle that originally sported 14-inchers) can potentially hinder steering capabilities and put undue stress on brake, steering, and suspension components due to the added rotational mass and unsprung weight. When it comes to plus-sizing, there is indeed a point of diminishing return. Of course, this may or may not be an issue or concern for you depending on how you drive your vehicle, so ultimately it is up to you to decide whether or not extreme plus-sizing is for you.
Can I use my original tires with my new aftermarket wheels?
As long as your tires match the diameter of the wheels (for example, a 225/45R17 tire on a 17-inch wheel), it is perfectly fine to use your original tires in most cases. However, special care must be taken to ensure that any difference in offset or backspacing between your factory wheels and your new wheels will not result in the tires rubbing on the fenders or suspension, and that your tires' width falls within the recommended range for your new wheel width
Can I put bigger diameter tires on my aftermarket wheels than stock?
This truck originally came equipped with 245/75R16 tires (about a 30.5 inch diameter), but now sports a 35-inch diameter tire on a 20-inch wheel. It has been re-geared to accommodate the drastic change in tire diameter.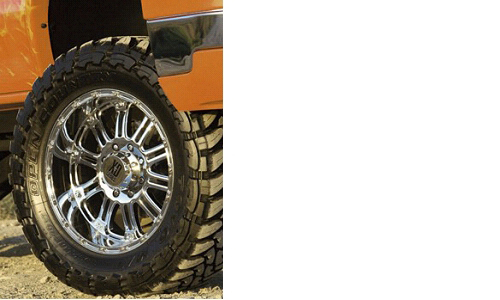 It is entirely possible, and actually quite popular, to install bigger tires than stock on aftermarket wheels, especially for off-road applications. However, the general consensus is to not go more than 3-5 percent larger than stock in order to keep your speedometer and anti-lock braking system in proper working order. In addition, any tires that deviate too much from the original diameter will also require re-gearing so as not to strain the drivetrain and maintain decent fuel economy and acceleration. Not only that, but body or suspension work would also likely be in order for the tires to fit properly.
What does it mean to balance wheels? Why do wheels need to be balanced? Do I have to get my wheels balanced if I buy new wheels?
Wheels and tires are always balanced as a set and are dependent on their rotational relationship to one another. So, even removing your tires and then reinstalling them on the same wheels would require them to be balanced once again since they would likely end up "clocked" differently on the wheels. Most wheels and tires, factory or aftermarket, aren't perfectly balanced from the manufacturer, so they must be balanced together in order to properly reduce/eliminate vibration. Any vibration at the wheels/tires would be felt at the steering wheel and can cause premature suspension and steering component wear and failure, as well as uneven tire wear.
New technology such as Hunter Equipment's specialized wheel/tire balancers (below) allow your local installer to "match mount" your wheels and tires at their optimal orientation to one another, reducing the amount of weight needed to properly balance your new wheels.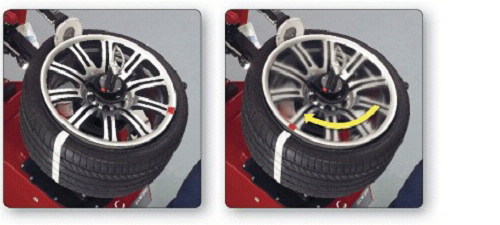 What does "staggered fitment" mean?
If your rear wheels are wider and/or of a larger diameter than the front wheels, you have yourself a case of staggered fitment! In most cases, people with staggered wheel fitments will closely match the outside tire diameters front to back, but this is especially crucial with all-wheel drive vehicles since any difference in rolling speed will be perceived as wheel slippage by the vehicle's onboard computer. As you can imagine, this scenario could cause some severe drivability problems. If you want a more aggressive look for your ride, a staggered wheel setup could be the way to go!
18x8 and 18x9 staggered wheel setup on BMW 3-Series sedan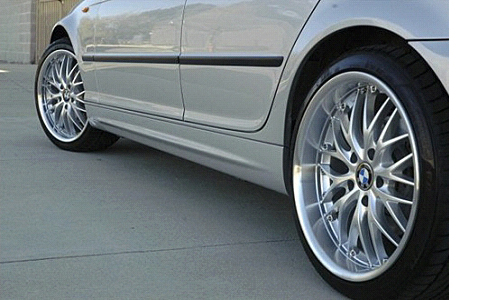 Can I re-use my lug factory lug nuts with my new wheels?
In some cases, you can indeed use your factory lug nuts/lug bolts with aftermarket wheels as long as your new wheels utilize the same type of seat as your factory wheels. That being said, in most cases they will NOT match up, so you'll have to purchase a set of lug nuts that will match your new wheels' lug seats. Failure to do so could cause your wheels to be thrown off balance, as well as your lug nuts becoming loose over time.
There are many different types of lug nuts and bolts, so you will always want to verify which type will suit your new wheels. The chart below shows the most common types.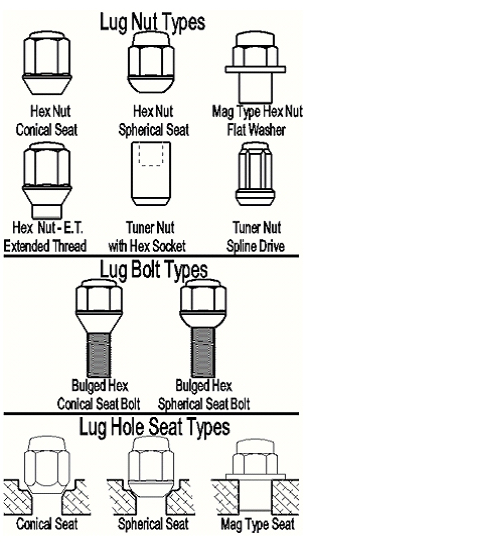 Another major consideration when determining the proper lug nuts or bolts is whether or not they can engage enough to properly secure your wheels. The chart below shows proper and safe procedure for determining whether your lug nuts or bolts will work for your new wheels.