Bridgestone Potenza RE050A II Run Flat 225/45R-17 91V BMW B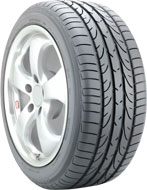 Description



Fits On:
Universal
About this Manufacturer:
Bridgestone is well known for their high-quality rubber that seamlessly blends performance and value to give the modern automotive enthusiast an affordable alternative. While their current offerings push the envelope of conventional design, the company's origins go back over 100 years. The beginnings can be traced back to turn of the century America with the Firestone Tire Company, and 1930's Japan with the Bridgestone Tire Company. When the two brands joined forces in 1974 they became the largest tire and rubber company in the world. Bridgestone also has a rich motorsports heritage that includes supplying race rubber for numerous racing series including the Formula One World Championship series. With great innovation, superb customer care and a product that speaks for itself, the Nashville, Tennessee based company looks to be a leader for miles down the road.
About this Product:
Bridgestone Potenza RE050A II Run Flat

Treadwear: 140
Traction: A
Temperature: A
Speed Rating: V


About the Potenza RE050A II Run Flat
Original equipment on many high-performance vehicles, the Potenza RE050 is built for the pleasure of driving. This tire comes loaded with race-proven technology: UNI-T for outstanding wet and dry traction, a tread pattern that promotes rapid water evacuation, variable dimensions in the tread blocks, and the smoother shape to reduce road noise. An asymmetrical pattern in the RE050A tread increases surface contact to enhance acceleration and cornering. Put this Potenza through its paces and discover what ultra-high performance really means.




» SITE CENTERS



» LINKS



» POWERED BY









CURRENT VEHICLE
Subaru