Brembo Brake Kits - Gran Turismo Series Drilled W/ Gold 4-Piston Calipers 326x30 (Front)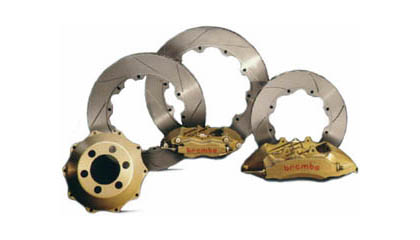 Description



Product Videos
Are big brake kits really worth the price tag? Find out on our Andy's Auto Sport TV episode!
Fits On:
02-05 Subaru Impreza / WRX
About this Manufacturer:
Brembo was founded in 1961 as a small mechanics garage located a few kilometres from Bergamo, run by the current President's father Emilio Bombassei. Experience gained in mechanics and metallurgy was put to good use when the founder started working for customers such as Alfa Romeo. 1964 marked a milestone in the company's history: Brembo began manufacturing the first Italian brake discs for the aftermarket. Until then, discs had been imported from Great Britain. The production of brake discs was then followed by other braking system components. The skill, specialization and quality of the products and services of this Curno-based company began to gain recognition on an international level, gaining leadership in Europe's brake disc aftermarket.

Today, Brembo is perhaps the most recognized name in the aftermarket brake industry. If you want to be sure you're getting quality parts, you should have no hesitation in buying a Brembo product.
About this Product:
The Gran Turismo system's level of technology and performance is unrivaled by any other product on the market. Each system is designed vehicle specific for maximum performance and "optimum brake balance". Gran Turismo systems are comprised of lightweight 4,6, or 8 piston calipers and 1 or 2 piece "floating" vented rotors up to 15" in diameter. Increased brake torque and thermal capacity dramatically improves the vehicle's performance.
Disc Size: 326x30
1-piece rotors

» SITE CENTERS



» LINKS



» POWERED BY









CURRENT VEHICLE
Subaru