EXTERIOR
INTERIOR
LIGHTS
PERFORMANCE
SUSPENSION
BRAKES
DRIVETRAIN
AUDIO
WHEELS
GARAGE
ISC Suspension Products
Shop ISC Suspension Parts by Make
Shop ISC Suspension Parts by Category
ISC Suspension Products
Shop ISC Suspension Parts by Make
Shop ISC Suspension Parts by Category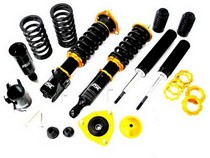 Fits: 97-03 5 Series
PART# B001
Coilover Type: Full Coilover Systems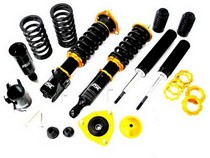 Fits: 00+ Celica
PART# T021
Coilover Type: Full Coilover Systems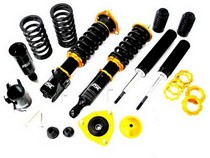 Fits: 97-03 Golf 4 GTI, Golf 4 GLI 1.8L, Golf 4 GLI 2.0L, Golf 5 GT, Golf 5 TSI
PART# T101
Coilover Type: Full Coilover Systems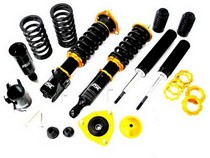 Fits: 00-05 3 Series 318i, 3 Series 320i, 3 Series 330i
PART# B003
Coilover Type: Full Coilover Systems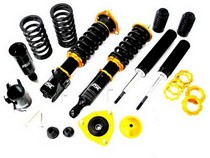 Fits: 86-91 RX7 FC
PART# M103
Coilover Type: Full Coilover Systems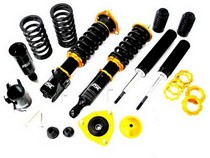 Fits: 02-03 Evo 7 GSR, Evo 7 GT
PART# M009
Coilover Type: Full Coilover Systems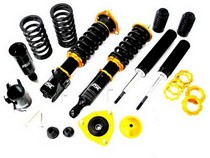 Fits: 04-07 Impreza WRX STI, Impreza WRX STI (wagon)
PART# S005
Coilover Type: Full Coilover Systems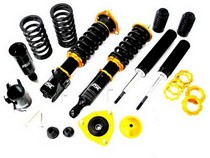 Fits: 09+ Fiesta 6
PART# F008
Coilover Type: Full Coilover Systems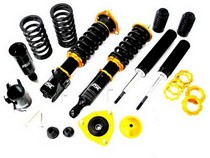 Fits: 92-02 RX7 FD
PART# M104
Coilover Type: Full Coilover Systems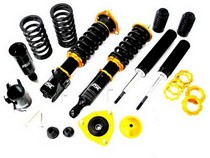 Fits: 03-06 Infinti G35
PART# N018
Coilover Type: Full Coilover Systems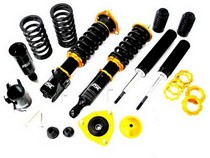 Fits: 00-01 Evo 6 GSR
PART# M008
Coilover Type: Full Coilover Systems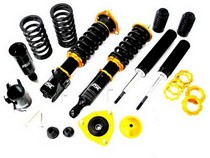 Fits: 08+ Evo 10 GSR
PART# M022
Coilover Type: Full Coilover Systems
Not able to find what you are looking for?

ISC Suspension N1 Coilovers for Subaru Impreza WRX 2008-2014 - Sedan & Hatch
If you are trying to find great suspension and brake components from the folks at ISC, then you have come to the right spot. ISC is a rising star thanks to their affordable line of high-performance accessories. Here at Andy's Auto Sport we are thrilled to bring you the full array of products from the ISC catalog for you to choose from. We offer great customer service to ensure that you get the parts you need in a timely manner. We can also provide technical assistance including detailed product specifications, installation instructions and photos when they are available.
When you hear the word coilovers two things probably come to mind, great handling and lots of money. While traditional high-end coilovers are quite pricey, the folks at ISC have changed the game with a new line of affordable high-performance products including their signature N1 coilover and their performance brake kits. But don't let the competitive pricing fool you, these components are all state of the art and will give you the added performance you need to run with the big boys. Who says you need to compromise performance and quality in order to make parts affordable? The folks at ISC have figured it out, and we recommend that you give them a try.
ISC is a North America based company who emerged on the scene in order to fill a void. They noticed that all of the cheap coilovers on the market were poorly made and did not work well, but all of the high-end brands were prohibitively expensive. Their goal was to bring high-end levels of quality and performance to the average car enthusiast. This goal was achieved with the release of the N1 coilover which boasts 3 inches of ride height adjustability, 32 clicks of damping adjustment, high-quality steel casing with aluminum brackets and lock rings, and a fully rebuildable/serviceable design. They have plans to continue releasing new high-quality low-cost products for all aspects of vehicle performance, so keep your eyes glued to ISC to find out what happens next.
ISC Suspension is a Thai company that puts out some of some of the best performance suspension and brake parts to have hit the aftermarket automotive industry in a long time, and their recent introduction to the U.S. market has had enthusiasts clamoring to get a taste of ISC for themselves. The company's products are just as at home on the racetrack as they are on the road, so no matter what type of driving you do most often, ISC Suspension is a great option for outstanding handling and performance at a great price.