EXTERIOR
INTERIOR
LIGHTS
PERFORMANCE
SUSPENSION
BRAKES
DRIVETRAIN
AUDIO
WHEELS
GARAGE
Eibach Products
Filter Your Results
Category

Eibach Products

Fits: 2012 Hyundai Genesis Coupe 3.8 Track - 3.8L/3778cc V6
PART# 4.4442.880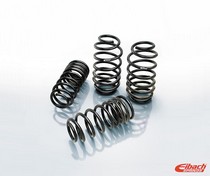 Fits: 2006 To 2010 Dodge, Charger, 2Wd, V6, Inc. Se, Sxt, 2006 To 2010 Dodge, Charger, 2Wd, V8, Inc. R/T, Daytona R/T, Exc. Srt-8 Self Leveling
PART# 2876.140
Front Drop: 1.5"
Rear Drop: 1.9"
Color: Smoke

Fits: 2005 Mazda 3 SP23 - 2.3L/2260cc L4
PART# 4.4555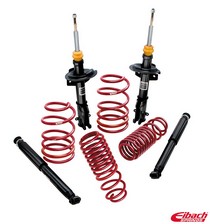 Fits: 2007 To 2010 Ford, Shelby Gt500, Coupe, 5.4L V8 Supercharged
PART# 4.11535.780
Front Drop: 1.7"
Rear Drop: 2.2"
Color: Black, Red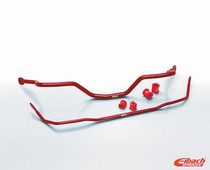 Fits: 2005 To 2011 Chevrolet, Corvette, C6
PART# 38126.320
Position: Front and Rear Packages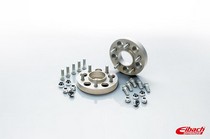 Fits: 2005 To 2010 Chrysler, 300, 2Wd, V6, Exc. Awd, 2005 To 2010 Chrysler, 300C, 2Wd, V8, Exc. Awd, Srt8 S/Lev, 2005 To 2010 Chrysler, 300C, 2Wd, V8, Inc. ...
PART# 90.4.30.017.2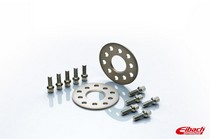 Fits: 04/1997 To 10/2000 Audi, A6, Avant (Wagon) 2Wd, 6 Cyl., 1997 To 2002 Audi, A8, Sedan, Quattro, V8, 1997 To 2004 Audi, A6, Avant (Wagon) Quattro, 6 Cyl ...
PART# 90.1.08.002.2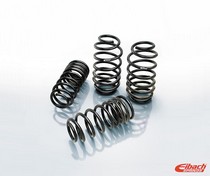 Fits: 2005 To 2010 Chrysler, 300C, Awd, V8, Exc. 2Wd
PART# 2879.140
Front Drop: 1.5"
Rear Drop: 1.7"
Color: Smoke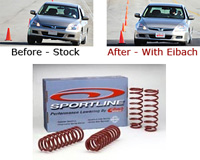 Fits: 94-98 Ford Mustang V8, Ford 99-04 Mustang
PART# 4.1035
Front Drop: 2"
Rear Drop: 1.8"
Color: Copper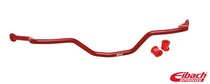 Fits: 2009 To 2011 Hyundai, Genesis, Coupe, 2.0L 4Cyl. Turbo, 2009 To 2011 Hyundai, Genesis, Coupe, 3.8L V6
PART# 4244.310

Fits: 2003 Volkswagen Jetta Wolfsburg Edition - 1.8L/1781cc L4
PART# 8575.880

Fits: 2012 Mitsubishi Lancer SE - 2.4L/2360cc (144ci) L4
PART# 4.4860
Not able to find what you are looking for?

Eibach Caster Camber Bolts For 2011-2014 Mustang
STAGG 4 SHOCKS STRUTS MERCEDES BENZ W203 C230 C240 C320 C350 C32 C55 AMG 01 - 07
Rear Eibach Pro-Kit Lower Springs 00-05 Eclipse
STAGG 4 SHOCKS STRUTS THAT FITS NISSAN ALTIMA 2.5L 3.5L 2002 2003 2004 2005 2006
Sponsor Import White Decal JDM Brembo Eibach Greddy Spoon Mugen (16 Stickers)
Eibach Springs' goal, which it has achieved, is to manufacture some of the finest coil springs and suspension components in the world. Well, it just so happens that the goal here at Andy's Auto Sport is to bring you the best parts at the best prices in the world, so you just can't go wrong by buying Eibach suspension parts from us at the best prices you'll find anywhere. Whether you're looking for Eibach's Pro-Kit, Sportline, Drag-Launch, or Pro-Truck line of performance springs, or any of the company's other suspension products.
If your ride doesn't handle as well as it could, it's probably time to look into upgrading your suspension with Eibach. Even just switching your springs with a set of Eibach performance lowering springs will greatly enhance your driving experience, as well as give your vehicle that flush, aerodynamic look we all crave. Giving our suspensions a little attitude adjustment is always great, especially when it also comes with an altitude adjustment. Eibach delivers on both counts.
Eibach's first foray into manufacturing springs on a large scale was for large ship engine builders, for which the company produced diesel engine valve springs, which it still makes to this day. And, Eibach not only manufactures coil springs for street-driven vehicles, it also makes coils for some pretty hardcore race cars, including Formula One, and was the first manufacturer of AMG coil springs. As if that wasn't enough, Eibach also makes complete coilover suspension systems, shock absorbers, sway bars, wheel spacers, and even camber correction kits.
Eibach makes the finest performance suspension products in the world. Period. They are best known for their lowering springs. When other springs sag, wear out, or create sketchy handling or a bone-crushing ride, top street tuners (like top race temas from F1 to Le Mans to Nascar) inevitably turn ot Eibach.

Eibach suspension products have:
>Precision Tolerances - the tightest in the industry
>Every spring, anti-roll bar, and damper kit extensively developed and road tested for maximum performance
>Street kits designed for the best performance, the best look, and the best ride
>Ultra-lightweight, for reduced unsprung mass
>Exceptional block resistance and durability

Eibach uses the world's finest spring steel, produced to exceedingly precise tolerances. They use world-renowned German CNC coilers, as well as many unique machines engineered and built specifically for Eibach.