EXTERIOR
INTERIOR
LIGHTS
PERFORMANCE
SUSPENSION
BRAKES
DRIVETRAIN
AUDIO
WHEELS
GARAGE
Dick Cepek Products
Shop Dick Cepek Parts by Make
Shop Dick Cepek Parts by Category
Filter Your Results
Category

Price Range

Dick Cepek Products
Shop Dick Cepek Parts by Make
Shop Dick Cepek Parts by Category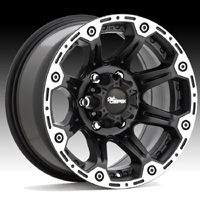 Fits: 08-09 LX 570, 98-03 LX 470, 98-98 Land Cruiser, 04-07 LX 470, 04-09 Land Cruiser, 08-09 Sequoia, 07-09 Tundra, 02-03 Land Cruiser
PART# 1088403
Width: 8.5
Finish: Black
Bolt Count: 5
Spoke Style: 7-spoke plus
Diameter: 18
Bolt Spacing: 150
Rim Made: Custom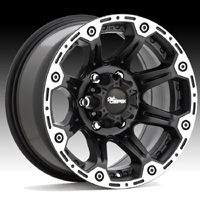 Fits: 08-09 LX 570, 98-03 LX 470, 98-98 Land Cruiser, 04-09 Land Cruiser, 04-07 LX 470, 08-09 Sequoia, 07-09 Tundra, 02-03 Land Cruiser
PART# 1029403
Width: 9
Finish: Black
Bolt Count: 5
Spoke Style: 7-spoke plus
Diameter: 20
Bolt Spacing: 150
Rim Made: Custom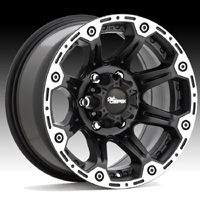 Fits: 03-04 F-250 2WD Super Duty, 98-03 F-350 Super Duty, 98-02 F-250 2WD, 00-05 Excursion, 04-09 F-350 non-Dually
PART# 1068170
Width: 8
Finish: Black
Bolt Count: 8
Spoke Style: 7-spoke plus
Diameter: 16
Bolt Spacing: 170
Rim Made: Custom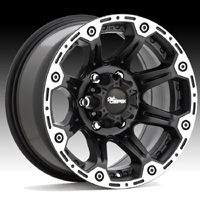 Fits: 04-09 F-150 4WD (except Heritage or Harley Davidson), 06-08 Mark LT (4WD)
PART# 1088462
Width: 8.5
Finish: Black
Bolt Count: 6
Spoke Style: 7-spoke plus
Diameter: 18
Bolt Spacing: 135
Rim Made: Custom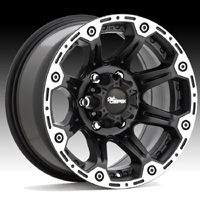 Fits: 98-03 F-350 Super Duty, 03-04 F-250 2WD Super Duty, 00-05 Excursion, 98-02 F-250 4WD, 04-09 F-350 non-Dually
PART# 1088170
Width: 8.5
Finish: Black
Bolt Count: 8
Spoke Style: 7-spoke plus
Diameter: 18
Bolt Spacing: 170
Rim Made: Custom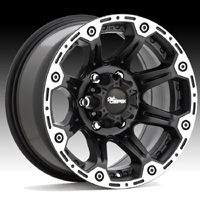 Fits: 98-03 F-350 Super Duty, 03-04 F-250 2WD Super Duty, 00-05 Excursion, 98-02 F-250 4WD, 04-09 F-350 non-Dually
PART# 1078170
Width: 8.5
Finish: Black
Bolt Count: 8
Spoke Style: 7-spoke plus
Diameter: 17
Bolt Spacing: 170
Rim Made: Custom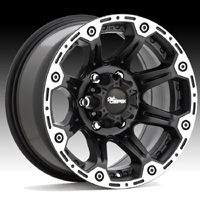 Fits: 06-08 Mark LT (2WD), 04-09 F-150 2WD, 03-09 Navigator, 03-09 Expedition
PART# 1029462
Width: 9
Finish: Black
Bolt Count: 6
Spoke Style: 7-spoke plus
Diameter: 20
Bolt Spacing: 135
Rim Made: Custom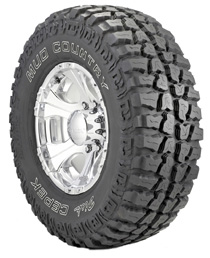 Fits: All Jeeps (Universal), Universal
PART# 23253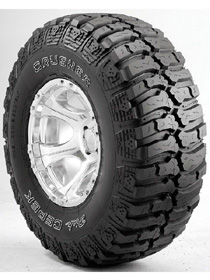 Fits: All Jeeps (Universal), Universal
PART# 33174
Section Width: 285mm
Aspect Ratio: 70
Speed Rating: Q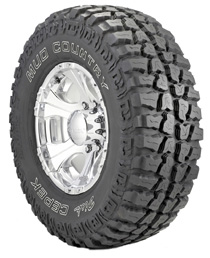 Fits: All Jeeps (Universal), Universal
PART# 23385 (SLT)
Section Width: 325mm
Aspect Ratio: 60
Speed Rating: Q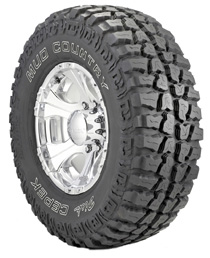 Fits: All Jeeps (Universal), Universal
PART# 23274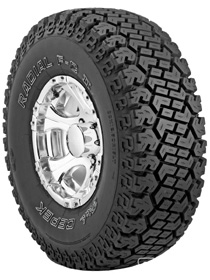 Fits: All Jeeps (Universal), Universal
PART# 12065
Section Width: 265mm
Aspect Ratio: 75
Speed Rating: Q
If you are looking for top notch wheel and tire products from Dick Cepek then you have come to the right place. Dick Cepek is a legend in the world of off road wheels and tires. Here at Andy's Auto Sport we are proud to offer the full range of products from Dick Cepek. We have an excellent staff of customer service agents that can help you choose the right product for your application. We also offer technical assistance including product specifications, photos, sizing charts and installation instructions when they are available.
Wheels and tires are some of the most critical components to your vehicle's performance. There is no point in buying a performance vehicle if you are going to put low performance wheels and tires on it. Conversely putting a good set of wheels and tires on even the most sedate vehicle can absolutely transform the performance. The folks at Dick Cepek know how crucial wheels and tires are for good performance and have gone the extra mile to ensure that they make some of the finest wheels and tires on the market. With nearly 50 years in the industry Dick Cepek has proven that they make only quality products. With roots in the off-road community, Dick Cepek knows that toughness is just as important as performance. All of their products are designed with exceptional durability in mind and are built to exacting tolerances to ensure great quality and fitment.
Dick Cepek is an expert in all things off-road. Whether you are camping in the woods, crawling over boulders or blasting over sand dunes, Dick Cepek has a line of specially designed off-road wheels and tires to suit all of your needs. And if you prefer to take your truck to shows, Dick Cepek wheels and tires also offer great styling and unique designs that will help your rig stand out from the rest. Dick Cepek, the man, was a passionate off-road enthusiast, Baja 1000 competitor, and industry innovator. Today his legacy lives on through his company and their great products.
When it comes to off-road wheel and tires there is possibly no more trusted name in the industry than Dick Cepek. With nearly 50 years of experience designing tires Dick Cepek has always been a go-to brand for 4x4 and SUV enthusiasts who require the very best wheels and tires for both on and off road performance. The folks at Dick Cepek don't just make wheels and tires, they are genuine truck fanatics who test and use their own products. Whether you need all-terrain tires to get you to the ski slopes or more aggressive mud tires to help you crawl through the woods Dick Cepek offers a wide array of tough and durable tires that will have you covered. Designed by off-road enthusiasts for off-road enthusiasts, if you like to get your truck dirty Dick Cepek can help you out.