EXTERIOR
INTERIOR
LIGHTS
PERFORMANCE
SUSPENSION
BRAKES
DRIVETRAIN
AUDIO
WHEELS
GARAGE
Borla Products Page 10
Filter Your Results
Category

Borla Products Page 10
109 - 120 of 475
Sort by: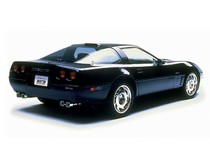 Fits: 84-91 Chevrolet Corvette C4 5.7L V8 (Automatic / Manual Transmission)
PART# 11376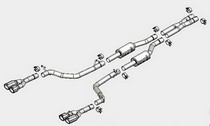 Fits: 09-10 Challenger R/T 5.7L V8 AT/MT RWD 2DR
PART# 140306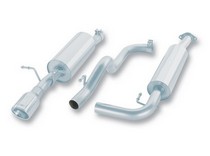 Fits: 05-10 Cobalt 2.0L/2.2L SprChrgd AT/MT FWD 2DR
PART# 140138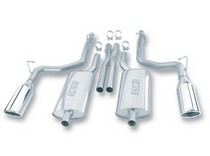 Fits: 05-10 300C 5.7L V8 AT RWD/AWD 4DR, 05-10 Charger R/T 5.7L V8 AT RWD/AWD 4DR, 05-10 Magnum R/T 5.7L V8 AT RWD/AWD 4DR
PART# 140125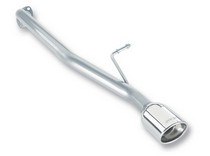 Fits: 08-10 xB 2.4L 4Cyl AT/MT FWD 4DR
PART# 11756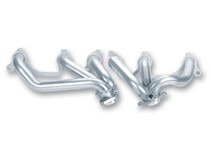 Fits: 00-04 Jeep Wrangler 4.0L 6Cyl. 2DR 4WD (Automatic / Manual Transmission)
PART# 17202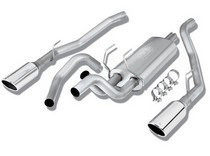 Fits: 09-11 Ram 1500 5.7L V8 RWD 4DR CC SB
PART# 140307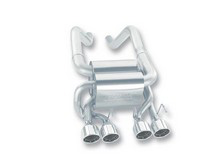 Fits: 06-10 Corvette C6 ZO6/ZR17.0L/6.2L V8 MT RWD 2DR
PART# 11753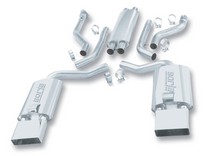 Fits: 92-96 Chevrolet Corvette C4 5.7L V8 (Automatic / Manual Transmission)
PART# 14385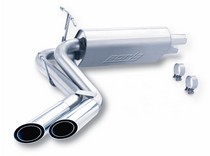 Fits: 99-04 Ford F-150 Lightning Supercharged 5.4L V8 Regular Cab Short Bed 2DR 2WD (Automatic Transmission)
PART# 14872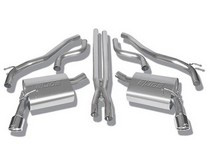 Fits: 10-11 Camaro 3.6L V6 AT/MT RWD 2DR
PART# 140282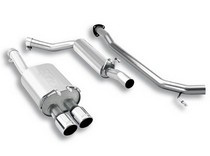 Fits: 06-09 Civic SI 2.0L 4Cyl MT FWD 4DR Sedan
PART# 140283
Borla manufactures lightweight exhaust systems out of austenitic stainless steel, which is of a higher grade than many other stainless steel exhausts. The company also produces universal mufflers for custom applications, as well as exhaust tips. Many of Borla's applications are offered in different configurations, allowing our customers to choose the perfect sound and performance level desired. If you have any questions about which exhaust system is right for you, we're here to help!
BRAND NEWS
Video Description:


Andy's Interviews Borla Exhaust!

In this episode, we interviewed David Borla from Borla Exhaust! This is the man behind one of the most famed exhaust brands in the world. Here are some highlights from the video:

*At 2:43 he mentions how Borla products come with a million-mile warranty! Also, all their parts are made right here in the USA.

*At 3:28, he talks about how many other exhaust companies are actually muffler companies who simply bolt some pipe to a muffler to create an exhaust system, and how Borla distinguishes itself from them by engineering each system from tip to tail from scratch.

*At 4:12 he talks about how Borla products don't drone, which is a huge upside about Borla products.

*At 10:23, David Borla urges customers to look for the Borla line at Andy's Auto Sport!
Borla is serious about producing power that just sounds good, and each Borla exhaust product is tuned to bring out the best in your ride. There are few companies that go unquestioned as far as quality, but Borla has maintained itself as exactly that kind of company. Whenever you see the name "Borla," you know you are getting the benefit of years of experience in performance exhaust tuning, without any excuses or false claims.
Borla had quite a distinguished beginning as a manufacturer of Ferrari and Rolls-Royce exhaust products, and has evolved its product line throughout the years to include performance exhausts for many popular cars and trucks. Each and every Borla exhaust system is manufactured completely out of stainless steel for the ultimate in quality, finish, and sound. This dedication to its end users is evident in Borla's amazing million mile warranty, which covers repair or replacement due to manufacturing or material defects.
Borla Cat-Back exhausts feature patented straight-through and multi-core technology to unleash hidden horsepower. Increased exhaust velocity adds power, driving excitement, fuel economy and the distinctive BORLA Sound of Power respected by motoring enthusiasts everywhere. Each system is built from premium Aircraft-Quality T-304 Stainless Steel, an alloy superior to T-400 series knockoffs, to give you the absolute best in performance and durability. Ultra-smooth mandrel bends ensure maximum flow and power, and precision computer-controlled CNC manufacturing ensures an accurate fit. Best of all, BORLA stands behind every system with a Million-Mile Warranty. Just what you'd expect from the world's most experienced (and most winning) exhaust brand.