EXTERIOR
INTERIOR
LIGHTS
PERFORMANCE
SUSPENSION
BRAKES
DRIVETRAIN
AUDIO
WHEELS
GARAGE
KW Suspension Products
Shop KW Suspension Parts by Make
Shop KW Suspension Parts by Category
Filter Your Results
Category

Price Range

KW Suspension Products
Shop KW Suspension Parts by Make
Shop KW Suspension Parts by Category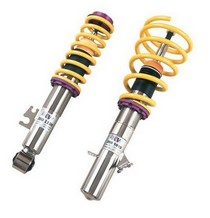 Fits: 05-07 Impreza STI (GD, GG)
PART# 10245014
Coilover Type: Full Coilover Systems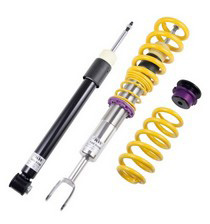 Fits: 08+ C-Class (204) C300/C350 Sedan RWD
PART# 18025028
Coilover Type: Full Coilover Systems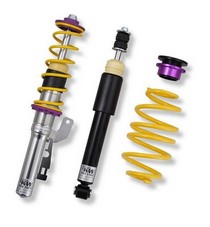 Fits: 08+ ForTwo (all)
PART# 15226004
Coilover Type: Full Coilover Systems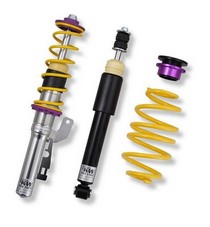 Fits: 03-07 Viper (ZB) SRT-10 with rear fork mounts, aluminum shock bodies
PART# 15227005
Coilover Type: Full Coilover Systems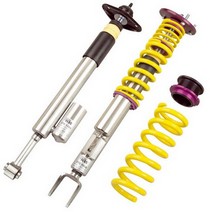 Fits: 2004 Impreza STI (GD, GG, GGS)
PART# 35245713
Coilover Type: Full Coilover Systems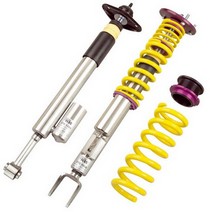 Fits: 00-06 M3 E46 (M346) Coupe, Convertible
PART# 35220825
Coilover Type: Full Coilover Systems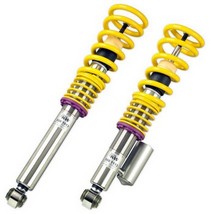 Fits: 06+ Eclipse (4G) Coupé, Convertible
PART# 35265015
Coilover Type: Full Coilover Systems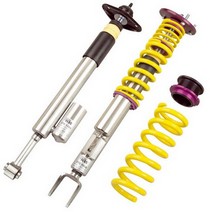 Fits: 07-08 RS4 (QB6) Convertible + Avant; Quattro incl. facelift
PART# 35210761
Coilover Type: Full Coilover Systems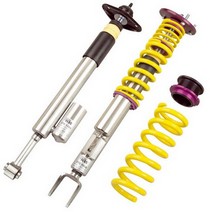 Fits: 08+ Mustang Shelby GT500
PART# 35230855
Coilover Type: Full Coilover Systems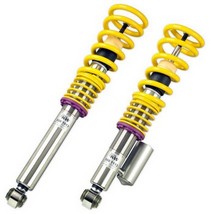 Fits: 00-05 MR2 Convertible (W3)
PART# 35256005
Coilover Type: Full Coilover Systems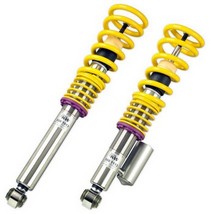 Fits: 08+ xD
PART# 35258003
Coilover Type: Full Coilover Systems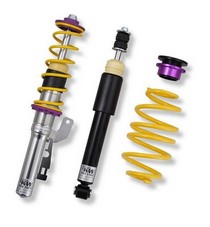 Fits: 06+ 3 Series E90/E92 2WD Sedan + Coupe
PART# 15220032
Coilover Type: Full Coilover Systems
Enjoy flat cornering and faster lap times with an upgrade to KW Suspension! KW manufactures many levels of its Variant coilover suspension kits, including race versions. The company also makes the Hydraulic Lift System (HLS), which gives lowered vehicles increased clearance for those tough-to-navigate speed bumps and steep driveways. The best deal on KW Suspension is right here at Andy's Auto Sport. We encourage you to experience the KW difference for yourself - you won't be disappointed.
If you're looking at KW Suspension components, you're already aware that the company makes some of the best aftermarket suspensions in the world. In fact, KW was the first manufacturer in the world to attain TUV certification for an entire suspension assembly. Whether you need a new suspension for the road or for the track, KW Suspension is an amazing choice that will instantly improve your vehicle's handling characteristics.
KW Suspension has proven its capabilities time and time again with victories in many race series, including the World Touring Car Championship and SCCA events. KW's products are also often used for original equipment manufacturer limited edition race vehicles, such as the BMW M3 GTS, which features a KW Clubsport suspension. Yup, the same suspensions used on some of the best handling vehicles on the road can also be yours with KW Suspension.
KW is a high-end suspension manufacturing specialist. Their products are light years in front of some of their counterparts who care more about affordability than quality. KW sacrifices nothing at the cost of quality and usability.

For the coilovers rebound adjustment can be performed with the kit installed via an adjustment spindle on the end of the piston rod. The rebound damping primarily, controls pitch and roll of the vehicle, especially in the low speed damping range which directly influences handling and comfort. Therefore the vehicle can be adjusted to the needs of the driver, making the ride variable from comfortable to sporty and stiff, both with improved road handling.

All KW sports shock absorbers are developed and tuned specifically for their intended use. KW engineers use all the knowledge they have gained from suspension development and motorsport in order to find the perfect tuning in extensive road testing.

The double-tube gas shock absorbers are generally equipped with hardened, chrome-plated piston rods, offering ideal protection against stone chips and corrosion. A new, innovative monoblock guide and seal package inccreases pressure resistance, reduces friction and hence promotes efficiency. The new, V-shaped shrink fit Teflon seals on the working pistons reduce to a minimum the losses due to friction, and guarantee an extremly temperature-resistant, durable shock absorber system. All KW sports shock absorbers are equipped with a rebound (shortened stroke), guaranteeing optimum stroke rations and ensuring that springs are pre-tensioned. A large proportion of the rear axle shock absorbers are equipped with spring plates that are adjustable by means of slots, enabling the height of the vehicle to be varied in 5 additional positions.

In cooperation with the Technical University of Esslingen, KW products were subjected to quality testing in December of 2002 in the form of a salt spray durability test in accordance with DIN 50021 SS. The object of this testing was to compare corrosion resistance of the various systems under consideration of environmental influences such as salt water. During the test simulation of over 418 hours, the samples were inspected at regular intervals, whereby the corrosion resistance of piston rods and threaded struts were evaluated, as well as the adjustability of the aluminum spring collars. The results accoding to Esslingen: KW inox-line coilovers with stainless steel technology are clearly superior to galvanized models with regard to corrosion resistance, and in addition, ensure smooth operation even after 418 hours.

In 2006 KW automotive established an ultra-modern hydraulic 7-post dyno test facility at its Fichtenberg location which simulates off-track running conditions in the laboratory. Worldwide there are only 15 units of the hydraulic 7-post rig in use, generally used by Formula 1 race teams for research and development purposes. The teams spend considerable time setting up the suspension of their cars for individual circuits, using the 7-post rig. KW automotive is enabled to offer the opportunity of simulating track conditions in the lab as well as their expertise to interested race teams and industry partners. This gives you an idea of how much engineering goes into KW products.