EXTERIOR
INTERIOR
LIGHTS
PERFORMANCE
SUSPENSION
BRAKES
DRIVETRAIN
AUDIO
WHEELS
GARAGE
Gibson Products
Shop Gibson Parts by Make
Shop Gibson Parts by Category
Filter Your Results
Category

Gibson Products
Shop Gibson Parts by Make
Shop Gibson Parts by Category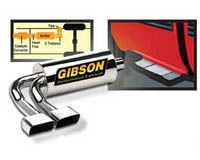 Fits: 02-04 Dodge Ram 1500 3.7L / 3.9L / 4.7L / 5.9L Standard Cab 2DR / Quad Cab 4DR Short Bed / Long Bed
PART# 6512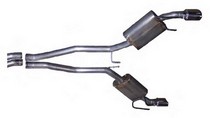 Fits: 2010 Camaro; 6.2L
PART# 320002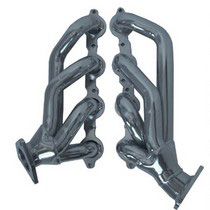 Fits: 02-04 Chevrolet Silverado 6.0L, 02-04 Chevrolet Suburban 6.0L, 02-04 Chevrolet Tahoe 6.0L AWD, 02-04 GMC Sierra 6.0L, 02-04 GMC Yukon / Yukon Denali 6 ...
PART# GP500S-C
Finish: Ceramic Coated
Tube Grouping: 4-1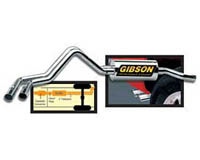 Fits: 97-99 Dodge Dakota 3.9L / 5.2L Extended Cab Short Bed
PART# 66201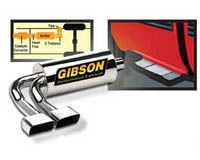 Fits: 99-04 Chevrolet Silverado 4.3L / 4.8L / 5.3L Standard Cab Short Bed, 99-04 GMC Sierra 4.3L / 4.8L / 5.3L Standard Cab Short Bed
PART# 5516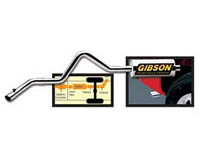 Fits: 97-98 Ford Expedition 4.6L / 5.4L 4DR, 97-98 Lincoln Navigator 4.6L / 5.4L 4DR
PART# 619900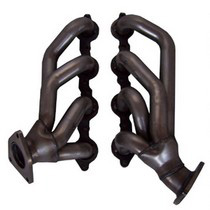 Fits: 00-02 Chevrolet Tahoe 6.0L, 00-02 GMC Yukon / Yukon Denali 6.0L, 2002 Cadillac Escalade 6.0L AWD, 99-02 Chevrolet Silverado 6.0L, 99-02 Chevrolet Subu ...
PART# GP119S
Finish: Stainless Steel
Tube Grouping: 4-1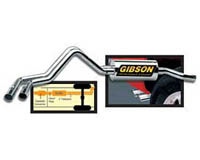 Fits: 99-01 Chevrolet Silverado 2500 6.0L Standard Cab Long Bed, 99-01 GMC Sierra 6.0L Standard Cab Long Bed 2500
PART# 65205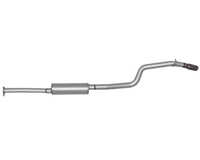 Fits: 96-97 Chevrolet S-10 4.3L Extended Cab Short Bed 4WD, 96-97 GMC Sonoma 4.3L Extended Cab Short Bed 4WD
PART# 614422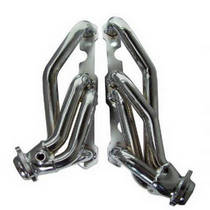 Fits: 87-95 Ford Bronco 5.0L (87-90 won't fit if air is into each port)
PART# GP201
Finish: Chrome
Tube Grouping: 4-1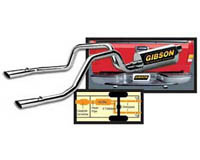 Fits: 97-99 Dodge Dakota 3.9L / 5.2L Standard Cab Short Bed 2WD
PART# 66506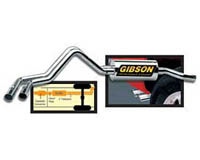 Fits: 07-09 Tahoe; 4.8L-5.3L; 2/4WD; 4 Door, 07-09 Yukon; 4.8L-5.3L; 2/4WD; 4 Door
PART# 65610
If you are looking for a good quality cat-back exhaust, muffler, headers, or exhaust tip for your gas or diesel vehicle that won't break the piggy bank, Gibson Performance probably has something that's right up your alley. Gibson exhaust products are perfect for towing since they give your ride some more low-end grunt, with a sound that's reminiscent of the muscle car era. If you still have any questions after checking out our assortment of Gibson Performance exhaust products, be sure to give us a call so we can help you find the perfect setup.
BRAND NEWS
Video Description:


Andy's Interviews Gibson Exhaust!

In this episode, we interviewed Shawn Gibson from Gibson Performance! Here are some of the highlights from the video:

*At 1:21, he talked about how Gibson's goal with their exhaust systems is to give you power gains and torque gains without giving you an overbearing sound inside your vehicle.

*At 2:50, he talks about their 100,000 square foot facility in California and the types of R&D and engineering they do their for their products. They also manufacture all their parts in that facility.

*At 3:19, they talk about how they do bending, welding, polishing, tipping, coating, and all other phases of the manufacturing all in house so that they have total control over the quality of every product they make.

*At 5:50, they talk about how Gibson products come with a lifetime warranty, and why they''re able to offer a warranty like that.

*At 6:37, he talks about how Gibson headers are made using the thickest gauge material, and the different coatings of header options they have available. He also explains how their headers come with the gaskets and bolts, so customers will have everything they need to install it.

*At 7:30, Shawn urges customers to check out AndysAutoSport.com for Gibson products!

*At 8:03, he talks about how Gibson and Andy's Auto Sport working together makes purchases easy and smooth for customers!

Video Description:


In this interview with Shawn Gibson of Gibson Performance, we talk about the companys line of Metal Mulisha exhausts for consumers who are looking for an aggressive sounding vehicle.

*At 0:40, Shawn explains the concept behind Metal Mulisha Exhausts, which is to be loud and powerful.

*At 2:20, Shawn tells us how the Metal Mulisha exhaust systems have been tested and approved by Mulisha members such as Brian Deegan.

*At 3:16, Shawn tells us how Gibson's close relationship with Metal Mulisha has allowed the company to stay in tune with the Metal Mulisha lifestyle.

*At 3:40, we hear about Gibson's Global Media International award at SEMA for having one of the best new products of the show.'
Gibson has built its reputation on providing quality exhaust systems and components at an affordable price, without any gimmicks or empty performance claims. If you want a budget exhaust that performs and sounds great, Gibson delivers.
Gibson is a family-owned business that got its start by manufacturing motorhome exhaust systems for owners who needed a bit more power and torque out of their rolling apartments. Using the same technology, Gibson began building exhausts for cars and trucks, focusing its attention on increasing lower power and torque in lower RPMs than its competitors, which improves fuel economy and acceleration.
After finding various methods to increase performance through improved muffler designs, the Gibson family began and expanded their business into one of the largest and most trusted aftermarket performance exhaust companies around.

Now, with a host of engineers and technicians, Gibson Performance is larger than ever, but it has not lost its commitment to building cost-effective exhaust systems that deliver more performance for the dollar. This includes designing exhaust systems that make more power across a wide RPM band, where enthusiasts need it. High peak horsepower gains are important, but Gibson decided that making horsepower and torque in the lower RPM range would benefit customers who want more towing power, passing acceleration, and improved fuel economy.