Audiobahn 1500W RMS Single-Channel Class D Monoblock Car Amplifier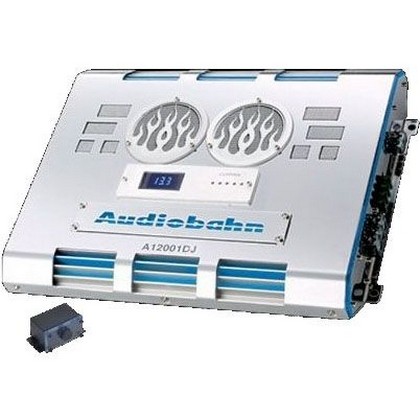 Description



Fits On:
All Vehicles (Universal)
About this Manufacturer:
Located in Buena Park, California, Audiobahn started out over a decade ago selling high-power audio equipment to the ever growing aftermarket community. Today they are a true one-stop-shopping brand for any and all mobile audio and electronics needs. With a strong focus on value they offer great affordable equipment that does not sacrifice quality in order to keep prices down. They continue to develop new products with innovative designs and creative aesthetics to keep on the cutting edge of the industry. With a passionate and knowledgeable staff they also provide superb service that has earned them a loyal following amongst audio enthusiasts.
About this Product:

• Monoblock Class D Car Amplifier
• RMS Power Rating: 4 ohms: 450 watts x 1 ch, 2 ohms: 800 watts x 1 ch, 1 ohm: 1500 watts x 1 ch
• Remote bass control with blue backlight knob
• Large display volt meter with blue illumination
• Variable Bass Boost: 0 - 18 dB
• High gloss chrome-plated finish
• Mono channel operation
• Throughput RCA connections
• Cobalt blue illumination
• Multi-Stranded power supply toroids
• Double-Sided glass epoxy circuit board
• Dual cooling fans to keep amp functioning for extended periods of time
• Chrome flame fan grilles for enhance appearance
• 4-way Protection Circuitry: Thermal, Short Circuit, Overload and DC Offset
• Heavy duty aluminum alloy heatsink for extreme heat dissipation
• Nickel-Plated RCA level inputs
• Nickel-Plated block terminals
• Input Sensitivity: 200mV-8V
• Variable Low-Pass Filter (50-250 Hz, 18 dB/octave)
• Subsonic Filter (20-50 Hz)
• Variable Phase Control: 0-180°
• Frequency Response: 10-200 Hz
• THD: 0.05%
• Signal-To-Noise Ratio: >100 dB
• Variable Bass Boost Frequency: 40-100 Hz
• Dimensions: 14-3/4""L x 11-15/16""W x 2-1/2""H

» SITE CENTERS



» LINKS



» POWERED BY









CURRENT VEHICLE
Saturn