EXTERIOR
INTERIOR
LIGHTS
PERFORMANCE
SUSPENSION
BRAKES
DRIVETRAIN
AUDIO
WHEELS
GARAGE

Datsun 510 Rims
Shop Datsun 510 Rims by Year
Shop Datsun 510 Rims by Brand


American Racing Wheels


Drag
See More Brands

Datsun 510 Rims
Shop Datsun 510 Rims by Year
Shop Datsun 510 Rims by Brand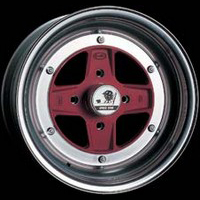 Fits: 70-73 510, 74-74 260Z, 70-73 240Z, 79-85 280ZX, 84-87 Corolla (RWD), 75-78 280Z
PART# M214650-114
Width: 6.5
Finish: Machined Accents
Bolt Count: 4
Spoke Style: 4-spoke or fewer
Diameter: 14
Bolt Spacing: 114.3
Rim Made: Custom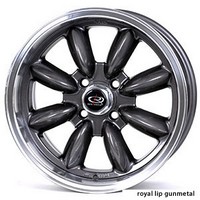 Fits: 70-73 510, 74-74 260Z, 70-73 240Z, 79-85 280ZX, 84-87 Corolla (RWD), 75-78 280Z
PART# RB 200016X7(56)
Width: 7
Finish: Gunmetal
Bolt Count: 4
Spoke Style: 7-spoke plus
Diameter: 16
Bolt Spacing: 114.3
Rim Made: Custom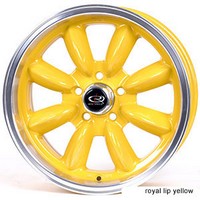 Fits: 70-73 510, 74-74 260Z, 70-73 240Z, 79-85 280ZX, 84-87 Corolla GTS, 75-78 280Z
PART# RB 200016X7(60)
Width: 7
Finish: Yellow
Bolt Count: 4
Spoke Style: 7-spoke plus
Diameter: 16
Bolt Spacing: 114.3
Rim Made: Custom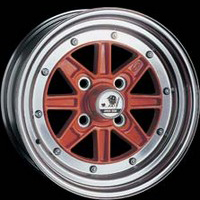 Fits: 70-73 510, 74-74 260Z, 70-73 240Z, 79-85 280ZX, 84-87 Corolla (RWD), 75-78 280Z
PART# M314650-114
Width: 6.5
Finish: Machined Accents
Bolt Count: 4
Spoke Style: 7-spoke plus
Diameter: 14
Bolt Spacing: 114.3
Rim Made: Custom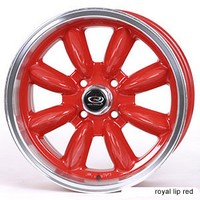 Fits: 70-73 510, 74-74 260Z, 70-73 240Z, 79-85 280ZX, 84-87 Corolla (RWD), 75-78 280Z
PART# RB 200015X7(73)
Width: 7
Finish: Red
Bolt Count: 4
Spoke Style: 7-spoke plus
Diameter: 15
Bolt Spacing: 114.3
Rim Made: Custom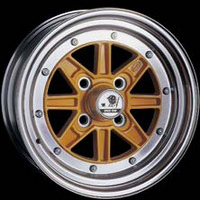 Fits: 70-73 510, 74-74 260Z, 70-73 240Z, 79-85 280ZX, 84-87 Corolla GTS, 75-78 280Z
PART# M315700-114-ORG
Width: 7
Finish: Orange
Bolt Count: 4
Spoke Style: 7-spoke plus
Diameter: 15
Bolt Spacing: 114.3
Rim Made: Custom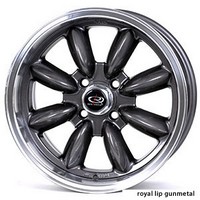 Fits: 70-73 510, 74-74 260Z, 70-73 240Z, 79-85 280ZX, 75-78 280Z, 84-87 Corolla GTS
PART# RB 200015X7(71)
Width: 7
Finish: Gunmetal
Bolt Count: 4
Spoke Style: 7-spoke plus
Diameter: 15
Bolt Spacing: 114.3
Rim Made: Custom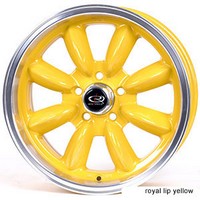 Fits: 70-73 510, 74-74 260Z, 70-73 240Z, 79-85 280ZX, 75-78 280Z, 84-87 Corolla GTS
PART# RB 200015X7(75)
Width: 7
Finish: Yellow
Bolt Count: 4
Spoke Style: 7-spoke plus
Diameter: 15
Bolt Spacing: 114.3
Rim Made: Custom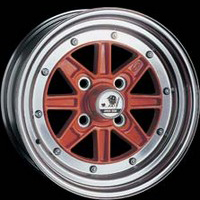 Fits: 70-73 510, 74-74 260Z, 70-73 240Z, 79-85 280ZX, 84-87 Corolla GTS, 75-78 280Z
PART# M314700-114
Width: 7
Finish: Machined Accents
Bolt Count: 4
Spoke Style: 7-spoke plus
Diameter: 14
Bolt Spacing: 114.3
Rim Made: Custom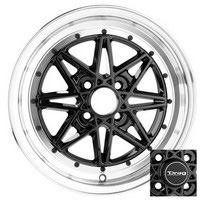 Fits: 70-73 510, 74-74 260Z, 70-73 240Z, 79-85 280ZX, 84-87 Corolla GTS, 75-78 280Z
PART# DR2015715073GB
Width: 7
Finish: Black with Machined Accents
Bolt Count: 4
Spoke Style: Split Spoke
Diameter: 15
Bolt Spacing: 114.3
Rim Made: Custom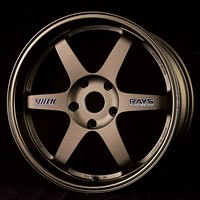 Fits: 70-73 510, 74-74 260Z, 70-73 240Z, 79-85 280ZX, 75-78 280Z, 84-87 Corolla GTS
PART# VOLK1350
Width: 7
Finish: Bronze
Bolt Count: 4
Spoke Style: 6-spoke
Diameter: 14
Bolt Spacing: 114.3
Rim Made: Custom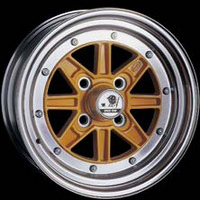 Fits: 70-73 510, 74-74 260Z, 70-73 240Z, 79-85 280ZX, 84-87 Corolla GTS, 75-78 280Z
PART# M314650-114-ORG
Width: 6.5
Finish: Orange
Bolt Count: 4
Spoke Style: 7-spoke plus
Diameter: 14
Bolt Spacing: 114.3
Rim Made: Custom
Not able to find what you are looking for?

Datsun 510 240Z 260Z 280Z 280ZX 70-83 Mag Wheel Lug Nuts & washer Nut Set 16 NEW
Ssr Supershark Starshark AE86 Datsun 510 Toyota Corolla te72
JDM RS WATANABE WHEEL RIM.AE86 510 KP61 240Z 260Z S13 240SX DATSUN 14​x6J-114.3
JDM NARDI MOMO STEERING WHEEL HUB ADAPTER DATSUN GC10 KPGC10 240Z 260Z 280Z 510
Steering Wheel Hub Adapter Boss Kit For Nissan Datsun 240Z 260Z 280Z 510 620 C10

Enter the Make, Model and Year of Your Vehicle
It helps us give you the best shopping experience! You can skip.