Vermont American 1/2" Reduced Shank HSS Fractional Jobber Drill Bit 3/4"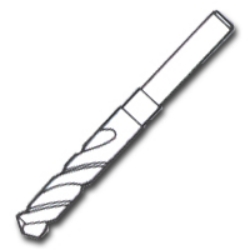 Fits On:

Description:
Features and Benefits:

•Ideal for machine shops, garages, farm and highway maintenance shops
•Precision crafted from premium high speed steel
•Special high-temperature surface treatment for superior wear resistance
•Special 118 degree Winslow helical point geometry is self centering and requires feed pressure
•Fits all 1/2" drills and drill presses

Drill Bit Stats:Fractional jobber length
•Diameter: 3/4"
•Overall length: 6"
•Flute length: 3-7/8"
•1/2" reduced shankThis drill bit is specially designed for drilling harder carbon and alloy steels. The high speed steel bit is hardened and tempered for long life and high performance in tough applications.
Not able to find what you are looking for?

Dent Fix DF15DX Spot Weld Drill Kit Spot Annihilator Kit w Case & Drill bits
8pc HSS Silver & Deming Drill Bits Set Power Press 1/2" Shank Demming Industrial
Snap-On Tools Drill Bit Set, High Speed Steel, Jobber Length, 13 Bits Complete
10PCS Micro HSS 0.3mm to 3.0mm Straight shank Twist Drill Bits Tiny Durable
Proto Screw & Pipe Extractor Set Drill Bits & Extractors