Vermont American 21 Piece 3/8" Reduced Shank Drill Bit Set 1/16" To 3/8" By 64ths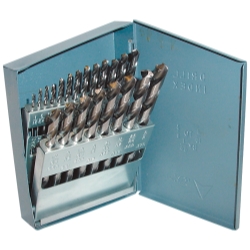 Fits On:

Description:
Features and Benefits:

•Organized for accessibility
•Rugged steel box with hinged index
•Bit sizes clearly visible
•Drill bit sizes included: 1/16" to 3/8" by 64ths
•Jobber length fractionalDrilling steel, copper, aluminum, cast iron, brass, wood or plastics, here's the most cost efficient drill bits to use. Built from treated high speed steel, these bits are ground and machined for most general purpose drilling.
Not able to find what you are looking for?

Dent Fix DF15DX Spot Weld Drill Kit Spot Annihilator Kit w Case & Drill bits
8pc HSS Silver & Deming Drill Bits Set Power Press 1/2" Shank Demming Industrial
Snap-On Tools Drill Bit Set, High Speed Steel, Jobber Length, 13 Bits Complete
Drill Master Bits P 36251 count of 11
10PCS Micro HSS 0.3mm to 3.0mm Straight shank Twist Drill Bits Tiny Durable