EXTERIOR
INTERIOR
LIGHTS
PERFORMANCE
SUSPENSION
BRAKES
DRIVETRAIN
AUDIO
WHEELS
GARAGE
Vacula DX 2.5 Brake Bleeder/Flusher And Mini Fluid Evacuator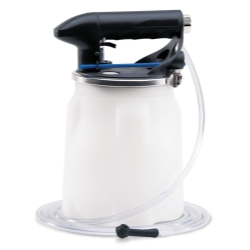 Fits On:

Description:
Features and Benefits:

Unique Throttle control - 2 way control, turn one way for vacuum - turn opposite for pressure
•Dual use - can be used as a vacuum brake bleeder/flusher or as a mini fluid evacuator
•Pressure mode can be used to empty the old fluid, or reinstall the fluid if using in a warranty application
•Clean and safe compact storage - hose wraps around the unit, emptying straw clamps into holder for safe storage in tool box
•Safe fluid handling - after disconnected from shop air, canister holds vacuum and continues to draw until all excess fluid from hose is removedThe powerful DX 2.5 brake bleeder/flusher extracts brake fluid quickly and safely via vacuum, plus generates slight overpressure to empty the unit's canister. It can also be used as a mini fluid evacuator. Using the pressure mode, you can reinstall the fluid when using it for warranty repair applications. This unit has a state of the art venturi design which is controlled by a revolutionary two way function throttle control handle. It is very quiet and is loaded with many other features. The o ring seal is compatible with all types of non-flammable liquids.