Uniweld Products All American Heavy Duty Oxyacetylene Outfit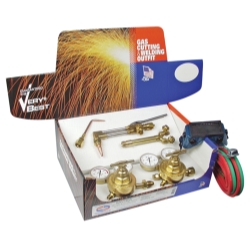 Fits On:

Description:
Features and Benefits:

This is a heavy duty outfit with all the necessary components for many industial and commercial applications including cutting, brazing and welding
•The CA780 cutting attachment with its unique one piece copper mixer sets the industry standard for most fuel gases 3 PSIG and above with proper tips
•RUH83 series regulators incorporate a tri-layered reinforced diaphragm, a heavy duty nozzle and seat assembly and easy to read single scale 2-1/2" gauges
•WH360 welding handle has O-ring sealed tube within a tube construction for long life
•Cutting range: 3/4" welding range: 3/32" A basic heavy duty outift with all the necessary components for many industrial, commercial, construction and automotive maintenance and repair applications. Kit includes: cutting attachment, cutting tip, welding handle, weld/braze tip, oxygen regulator, acetylene regulator, goggles, twin hose and flint lighter. Made in the U.S.A.
Not able to find what you are looking for?

The Haynes Welding Manual: Gas, Arc, MIG, TIG, Plasma Welding and Cutting