Terralux MiniStar5 LED Upgrade For 2 And 3 Cell C And D MagLites®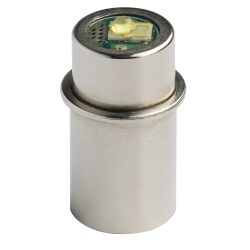 Fits On:

Description:
Features and Benefits:

•140 Lumen LED upgrade kit
•Amazingly brilliant light, even when batteries are low
•Batteries last 6 times longer than with incandescent
•Rugged - virtually unbreakable
•Won't burn out, virtually unbreakable

The MiniStar5 preserves one of the most outstanding features of the Mag Instruments line of flashlights, the ability to focus. The MiniStar5 produces a focused beam that throws a bright beam a very long distance. This product contains the TerraLUX LED Light Engine;, so it maintains a constant light output over the life of the batteries. Electronic regulation means the light does not fade as the batteries drain, so its light output holds up even after a long run time. The light intensity will only fall near the end of the batteries lifetime. The light will not suddenly go out like some competing products. Unlike incandescent bulbs, LEDs do not just "burn out" .

TerraLUX is not affiliated with Mag Instrument, Inc., which owns the MAG-LITE;, MINI MAGLITE and MagCharger trademarks and the trademark on the shape, style, and overall appearance of all MAG flashlights. Mag Instrument, Inc.'s trademarks are used here only to identify the flashlights with which TerraLUX intends its product to work. TerraLUX's products are not made, endorsed, or sponsored by Mag Instrument, Inc.
Not able to find what you are looking for?

Two Arctic Cat Key Chain Flashlights
HPR50 Light Bulb 272-1189 for 6V lantern or 4 CELL FLASHLIGHTS by RadioShack ®
4-in-1 Truck Car LED Flashlight Warning Flash Lamps With Emergency Safety Hammer
Pair of Luminex halogen cat's eye lights flashlights 2
2 LED STORM composite waterproof flashlights