EXTERIOR
INTERIOR
LIGHTS
PERFORMANCE
SUSPENSION
BRAKES
DRIVETRAIN
AUDIO
WHEELS
GARAGE
Street Scene Body Kit - Side Skirts (Urethane)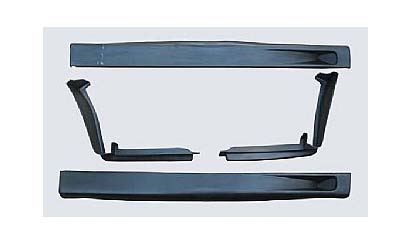 We did your comparison shopping for you!
Why are we showing competitor prices? Click Here
Video Description:


Check out this episode of Andy's Auto Sport TV where we explain what the difference is between fiberglass and poly-urethane. Most body kits are made out of one or the other, and we give you every insight you'll need in order to make an informed buying decision. Check it out!

Video Description:


Simply put, your body kit will NOT come painted. In this video:

*At 0:15, we explain how your body kit will arrive, and what kind of prep work you will have to do before installing your new body kit.

*At 0:37, we tell you what to expect when ordering carbon fiber body parts.

Video Description:


In this episode, we interviewed Mike Spagnola, the President of Street Scene, in an effort to help our customers learn more about the Street Scene brand. Here are some highlights from the interview:

*At 1:53, he talks about how Street Scene actually deserves credit for creating the speed grille market and is a true pioneer in the industry.

*At 3:34, Mike explains a lot about urethane body kits including how they're constructed and why they fit so well.

*At 6:21 Mike from Street Scene says that they like working with Andy's Auto Sport because we at Andy's are enthusisasts ourselves, and how we not only know how to sell the right parts but also know how to make quality recommendations! He also recognizes how Andy's is a major retailer that is in all the magazines and on TV.

*At7:52, he talks about the extreme quality control measures they go through in their effort to make sure every product fits perfectly. They test-fit every tenth production piece! Mike explained how they also work very closely with manufacturers like Ford, Chevy, and others to ensure their parts fit perfectly.
prev
next
Fits On:

Chevy/Gmc S Series Blazer 91-93 4-door
Description:
Street Scene Body Kit - Side Skirts (Urethane)
Street Scene is a widely renowned manufacturer of exterior styling components, such as urethane spoiler kits and specialty grills. They are a true powerhouse in the industry. Street Scene's urethane body kits are a wonderful way to give your vehicle a clean, customized look.
Q: I see the same style of body kit listed under different brand names. What's the difference?
A:
Indeed, you will sometimes see the same exact style of body kit listed under two or more different brands on our website. In this case, it means that the exact same style is just made by more than one manufacturer. Each of the body kit manufacturers whose product line we carry is an elite body kit brand, yet each has its own unique manufacturing process. Read about this manufacturer section under the detail product listing for each brand to learn more about each. Also feel free to contact us to ask any other questions you might have.
Q: Are body kits and ground effects the same thing?
A:
Yes. Ground effects, body kits, spoiler kits, bumper kits and aero kits are all terms that mean the exact same thing.
See all 6 questions & answers