Star Products Diesel Compression Test Set With Tester And Adapters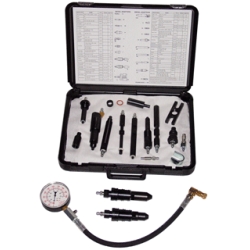 Fits On:

Description:
Features and Benefits:

•Contains tester and all the most popular adapters needed to test heavy-duty trucks and equipment
•Includes our TU-15gauge with easy to read red and black dial and snap-in lens

Adapters included in this set: TU-15-4A, TU-15-8, TU-15-9, TU-15-11A, TU-15-12A, TU-15-14, TU-15-17, TU-15-18A, TU-15-19, TU-15-20, TU-15-21, and TU-15-23.
Not able to find what you are looking for?

100PSI Fuel Injection Pump Pressure Gauge Tester Test Tool Tuner Gasoline
Gasoline Test Tools Fuel Injection Pump Pressure Gauge compression Tester Tuner
Diesel Fuel Injection Pump Timing Indicator Tool for VW/AUDI/Ford etc...
OTC Tools 6550 Fuel Injection Test Kit
Good Fuel Injection Pump Pressure Tester Test Pressure Gauge Tuner Gas test Tool