Stainless Works Turbo Muffler Axle-Back Exhaust System - Quad Tips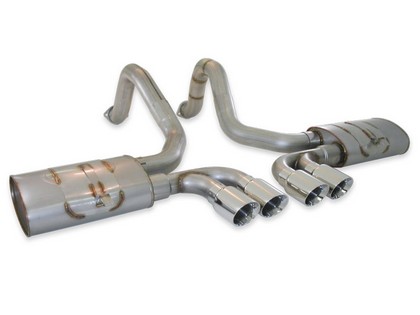 SALE $845.50
For each

Stainless Works Turbo Muffler Axle-Back Exhaust System - Quad Tips 

SALE $845.50
For each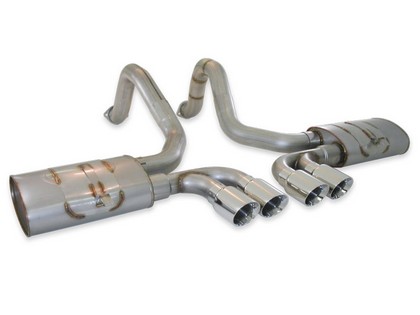 Video Description:


Everything you need to know about exhaust systems is explained on this episode of Andy's Auto Sport TV! We explain what exactly a cat-back exhaust system is, we explain why buying an exhaust system is Step 1 for improving performance, and we give information about how to make a buying decision from all the brands we carry here at Andy's.
Fits On:

Description:
97-04 Corvette Axleback Exhaust System. CNC Mandrel Bent 3" 304 S/S. Axleback Exhaust From The Two Bolt Flange In Front Of Rear Axle All The Way Back. Quad (4) 3" Dia. Straight Cut Rolled Edge Tips (2 Per Side). Straight Through Turbo Style Mufflers for a slightly more agressive exhaust tone
Integrated Merge Spike. While it might sound like something you'd be likely to find in some sort of medieval torture chamber, it's just one of the innovations that Stainless Works has come up with to improve the way exhaust systems work. As you might surmise by its name, Stainless Works manufactures its headers and exhausts out of high-quality stainless steel (in most cases, Everlast 304L), ensuring that your new exhaust will stand the test of time in both looks and performance. Stainless Works is known for its great fitment and quality construction, and we know that you'll be happy should you decide to go with a Stainless Works exhaust for your performance needs.
Q: How do you install an exhaust system?
A: Exhaust systems are installed using the supplied hardware, which includes gaskets and high grade bolts. This is truly a bolt-on procedure and most exhaust systems are an exact fit with no modifications needed. For this reason, getting a performance exhaust system is normally considered one of the easiest ways to gain noticeable horsepower for your car.

Q: What does an ehaust system do? Why buy an exhaust system?
A: A performance exhaust system is used to increase horsepower for your car by allowing exhaust gases to pass through your exhaust system with less backpressure and less resistance. Larger-diameter piping is normally used, depending on the application, in order to gain more horsepower and torque levels throughout the power band. A performance exhaust system can be the most cost-effective modification you can do to get more horsepower out of your car, not to mention that it will give your car a deeper more aggressive sound. And depending on the brand, performance exhaust systems normally include gorgeous new mufflers that add a great appearance to your car.

Q: Does a cat-back exhaust come with a catalytic converter?
A: No, "cat-back" actually means from the rear of the catalytic converter back, so it will include everything after the converter, but not the converter itself.

Q: What exactly does "cat-back" mean when people say "cat-back exhaust"?
A: Many performance exhaust systems are also referred to as cat-back exhausts. Cat-back means that the exhaust piping starts from your catalytic converter and runs back all the way to the exhaust tip(s).


Not able to find what you are looking for?

HONDA CB450 CB 450 MUFFLERS EXHAUST SYSTEMS PIPES CAFE
KTM RC390 GPR Exhaust Systems Deeptone Ghost Steel Silencer Road Legal
kawasaki AR125 Exhaust Systems AR50 AR80 MBX RZX
IRONHORSE OUTLAW/LEGEND CHROME RSD EXHAUST SYSTEMS
RSD DB Killer Sound Insert for RSD Exhaust Systems 26531 1861-0830