EXTERIOR
INTERIOR
LIGHTS
PERFORMANCE
SUSPENSION
BRAKES
DRIVETRAIN
AUDIO
WHEELS
GARAGE
Sparco Tec Seat (Blue)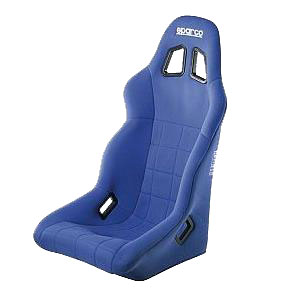 $519.00
For each

Seat Frame : Fiberglass
Color Outer : Blue
Reclinability : Reclining
Color Inner : Blue
Material : Cloth
Sparco Tec Seat (Blue)

$519.00
For each

Seat Frame : Fiberglass
Color Outer : Blue
Reclinability : Reclining
Color Inner : Blue
Material : Cloth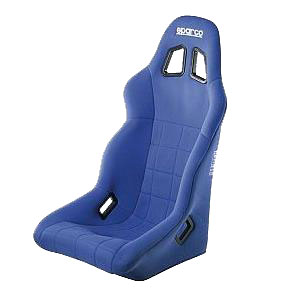 Video Description:


This episode of Andy's Auto Sport TV explains how to install seats and which brackets to buy to make sure your seat installation goes smoothly!

Video Description:


This episode of Andy's Auto Sport TV is a seats overview video that helps you choose which seat to buy. We offer input about whether to get a reclining or fixed-back seat, which seats are most comfortable, which seats are best for the track, which offer the best lumbar support, which are best for muscle car restoration, and which are best for off-roading. We explain how to find a seat that fits your body size.
Fits On:

All Cars (Universal), All Jeeps (Universal), All Muscle Cars (Universal), All SUVs (Universal), All Trucks (Universal), All Va... See more

Description:
Seats are a great upgrade to enhance styling, comfort, or safety of your car. Sparco seats are born from Sparco's racing heritage and drawn from their long experience and history in the research and development of their seats. Sparco racing seats feature a larger bolster area to keep the upper body snug. Their seats also feature thigh support to prevent sliding of the lower body. In addition to their design perks, Sparco performs "destruction tests" that test their seat's ability to withstand damage.

Sparco racing seats come in a variety of options starting with their two seperate line up, the Competition and Street series. The options increase even more for each seat's features such as the type of material (fabric, leather, alacantra, or Jacquard), recline-able seat backing, thigh support, adjustable bolsters, and more.

Sparco Competition and Street series offer two different approaches: seats that are used for competition purposes and seats that are an improvement over stock but also comfortable enough to be driven in daily. Certain seats are recline-able and offer less aggressive thigh support. Sparco seats also come in a variety of different skins. They offer them in traditional cloth fabrics which come in different colors such as blue, black, red, or grey. In addition to cloth they offer seats which come in other skins such as leather, alcantara, and jacquard.

Features:
• Made of fiberglass
• Channeling affect of air between seat and driver's body.
• FIA Institute for Motor Sport Safety approved
Sparco's anatomic and extremely comfortable sport seats provide a refined and modern design. They are the ultimate combination of comfort and performance. Sparco is one of the premier brands in the automotive aftermarket. You will not find better quality than Sparco.

Drivers such as Jeff Gordon, Mika Hakkinen, Alex Zanardi, Scott Sharp, Bobby Labonte, Juan Pablo Montoya, Jimmy Vasser, Jacques Villeneuve, Ralf Schumacher, Dario Franchitti, Bill Elliott, Paul Tracy, David Coulthard, Jean Alesi , and more than 20 other professional drivers in Formula One, Nascar Winston Cup, CART, and IRL, demand Sparco for their driving needs.Sparco has always worked closely with professional drivers to develop the safest, most technologically advanced products available.
Q: Why buy racing seats?
A: Racing seats weigh substantially less than factory seats, thereby improving performance of your vehicle. In addition, they increase support and can generally withstand more impact than factory seats. Beyond that, racing seats look a whole lot better than factory seats!

Q: Do custom/racing seats include the brackets to fit my vehicle?
A: No, seat brackets are sold separately. We sell a huge assortment of them!

Q: Do you need any extra accessories to install racing seats, such as brackets or sliders?
A: You can't install a racing seat without a seat bracket to mount it to your floorboard. Some seats are rail mounted and some are mounted using side brackets. Seat sliders can be purchased as well to adjust the seat separately. If there are no rails or brackets for your vehicle, Sparco makes a universal seat rail that can be modified to work with any racing seat.

Q: How do you install racing seats?
A: There are two types of seats. The first is a side mount, which uses brackets that are installed to the floor and to the side of the seat. The second type is one that sits on top of rails and bolt in from the bottom. After purchasing needed parts, simply unbolt your factory rails and install the new ones.

Q: I drive my car a lot. How do I know which of these seats is the most comfortable? Will all these seats be more comfortable than my factory seats?
A: In general, most racing seats are more firm that factory seats, since most racing seats are made with performance and lateral support in mind. So that means that while they won't necessarily be stiff, they're certainly not designed specifically to be cushy for long road trips either. That said, there are things you can do to maximize comfort with aftermarket seats. A lot of seat comfort has to do with proper adjustment, and this applies to factory seats as well. Always try different positions, along with various steering wheel adjustments, to find out which combination works best for your body type and height. Your knees should be slightly bent when touching the floor, without having to stretch to reach the pedals. The seat back should put your shoulders behind your hips, ideally so that your upper torso is at a 100-110 degree angle to your thighs. If your seat has other fine adjustments such as height or lumbar, play around with them until your seating position feels just right.

Q: Do racing seats fit in any vehicle?
A: Racing seats are universal for all vehicles; however, each seat will need to latch to a seat bracket, which is car specific. Make sure there is a bracket available for your vehicle on our website (or by calling us at 1-800-419-1152), or otherwise you can buy a universal bracket and custom fit it to your car. The way the universal brackets work is they come with a pair of brackets that have a multiple 'holes' to be able to interface with the bottom of the racing seat. By using the custom bracket and applying it to the seat first before installing it, you can also be sure that the brackets will match the width of the seats.

Q: Can I use my factory seat belts with aftermarket seats?
A: In most cases, it is entirely possible to maintain your factory seat belts with aftermarket seats. On some vehicles, however, the seat belt buckle is integrated into the seat itself, so it may be necessary in those cases to use aftermarket harnesses that have been properly installed according to the harness manufacturer's instructions.

Q: Do racing seats come in pairs?
A: Unless specifically notated otherwise in our product listings webpage, racing seats are sold individually.