EXTERIOR
INTERIOR
LIGHTS
PERFORMANCE
SUSPENSION
BRAKES
DRIVETRAIN
AUDIO
WHEELS
GARAGE
Sound Storm OHM Stable Amplifier High/Low Crossover With Remote Subwoofer Level Control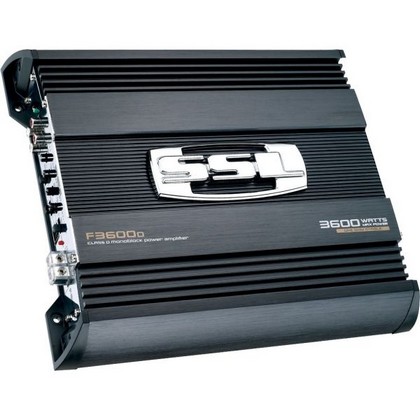 Fits On:

All Cars (Universal), All Jeeps (Universal), All Muscle Cars (Universal), All SUVs (Universal), All Trucks (Unversal), All Van... See more

Description:
· One Ohm Stable Mono-Block
· Strapping capability: Strap two amps together for twice the power (2 Ohm stable)
· Variable low pass filter: 50 -150Hz
· Variable subsonic filter: 15 - 40Hz
· Variable 0 to +18dB Bass Boost
· Phase shift selector: 0 or180
· Variable input gain control
· Input sensitivity selector
· Power and protection LED indicators
· Thermal, overload and speaker short protection
· RCA Line Level inputs
· RCA Line Outputs for system building
· Chrome plated RCA connectors and screw terminals
· Remote subwoofer level control
· Frequency response: 20Hz - 250Hz (+/- 3dB)
· Max power 1 ohm 3600W X 1
· Max power 2 ohm 2200W X 1
· RMS power 2 ohm 1800W X 1
· MAX power 4 ohm 1500W X 1
· RMS power 4 ohm 1200W X 1
· Signal-to-noise ratio 103db
· THD at RMS output 0.01%
· Damping factor 125+
· Dimensions (11-1/2" L x 10" W x 2-7/16" H)
Sound Storm Laboratories was founded in 1997 by a group of passionate enthusiasts who wanted to make affordable yet innovative car audio products that would change the industry. With in-house engineers who are always looking to push the limits of technology the Southern California based company has become a recognized name in the car audio industry. Their lineup includes a large array of automotive entertainment products including DVD players, CD players, amplifiers, speakers and much more. With a more bang for the buck philosophy they have created a niche as a company that offers advanced products at reasonable prices.
Q: How many watts should I make sure my amplifier can handle? How do I know which wattage is best for me?
A:
Matching your amplifier's power with your speakers is of utmost importance to a good sounding stereo system. If you are planning on running large subwoofers for added bass you should know that subs need a lot more power (around four times more) than the other component speakers in your system. There is no set amount of power that is best for a car stereo system but usually the more power you can run, the richer and fuller the sound quality will be from the system. The most important thing is to match the amp to the speakers you are using. If you are going to run four mid-range speakers and they can handle 50 watts a piece then you'll want an amp that can supply close to 50 watts per channel. In that same system you may run a subwoofer that can handle 200 watts, in which case you will need an amp that can supply at least 150 watts to the sub.
Q: How Many Channels Should My Amp Have?
A:
Choosing the right amplifier is an important part of building your car audio system. Choosing the right number of channels for your amplifier is determined by the number of speakers (tweeters, mid-range and sub-woofers) you are planning to run. In most cases you want to run one speaker per channel. Although it is possible to run multiple speakers off of the same channel it is not usually recommended since it wouldn't optimize sound quality. In general, sub-woofers require more power than smaller speakers so in many cases they will require their own dedicated amplifier.
Here is an example of possible set-ups: If you have a vehicle with four mid-range speakers and a sub-woofer you know will need one channel per speaker for all five speakers. You can either run a five channel amplifier with a dedicated sub-woofer channel in it, or you can use a four channel amplifier for the mid-range speakers and a separate mono or two channel amp for the sub-woofer. The latter option will provide the cleanest sound and allow your subwoofer to get all the power it can use, but either option will work.
See all 7 questions & answers