EXTERIOR
INTERIOR
LIGHTS
PERFORMANCE
SUSPENSION
BRAKES
DRIVETRAIN
AUDIO
WHEELS
GARAGE
SOLAR Pro-Logix 8 Amp Automatic Battery Charger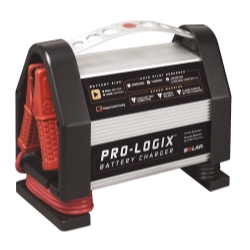 Fits On:

Description:
Features and Benefits:

Compatible with a wide variety of battery types: Conventional, Maintenance Free, AGM, Gel Cell, Deep Cycle and Marine batteries.
•Adjusts to meet the specific needs of the battery being charged, using Active Filtering Technology with Charge Control Circuitry.
•Simple to set-up for each charging application, with "Push and Go" One-Touch Control: simply select the battery size and the charger does the rest.
•Adjusts to compensate for minor variances in AC input power so that the optimal charge is delivered despite those variances.
•Adjusts to account for changes in ambient temperature (auto temperature correction), which can have a dramatic impact on how the battery accepts a charge.Model PL2208 is optimized for charging the small batteries found in motorcycles, lawn tractors, jumpstarters and more. Pro-Logix' Active Filtering Technology is ideal for small batteries, avoiding indiscriminate pushing of power into a battery, instead feeding the power in a manner best for the battery. Smaller batteries come in a variety of styles, making them ideal for charging with Pro-Logix. Quad phase charging process designed to enhance energy absorbtion and restore battery reserve capacity. Smart clamp technology provides reserve polarity protection, eliminates sparking and protects against many forms of operator error. Sealed aluminum case keeps dust and debris out of the charger for durability and a longer life. Amp hours: 8-60; Reserve minutes: 0-90; Maximum charge rate: 8 amps.