Skyjacker Softride Leaf Springs - 2-2.5" Front Lift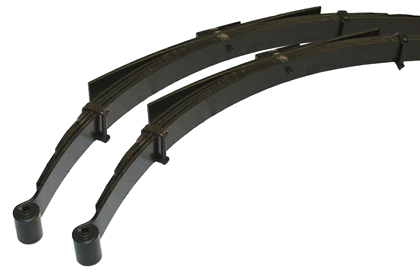 SALE $376.52
For pair

Skyjacker Softride Leaf Springs - 2-2.5" Front Lift

SALE $376.52
For pair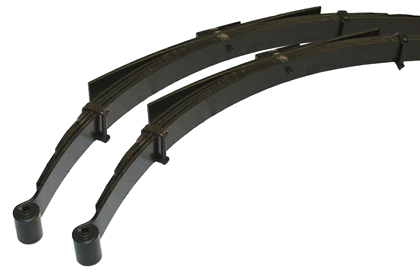 Video Description:


There are lots of reasons to install a lift kit on your truck or SUV, including aesthetics and performance. In this video, we'll show you the basics of how lift kits work, as well as typical lift kit components. Highlights include:

*At 0:43, we explain the benefits of increased ground clearance and suspension articulation.

*At 1:10, we talk about lift blocks and how they can raise the rear of your truck.

*At 1:48, we go over lifted leaf springs and add-a-leafs, which essentially convert your existing leaf springs into lifted springs.

*At 2:09, we explain lift crossmembers, which essentially lower the mounting points of your suspension, effectively raising the front of your truck or SUV.

*At 2:17, we talk about how lift spindles/knuckles raise the front of your truck by changing the location of the front hub mounting points.

*At 2:22, we talk about how lift springs are a simple way to raise a truck or SUV with an IFS or IRS suspension.

*At 2:28, we explain how lift torsion keys replace factory torsion keys to raise the front of your truck or SUV.

*At 2:37, we talk about coil spacer kits, which are an economical way to lift many trucks and SUVs.

*At 3:09, we talk about other options when lifting your vehicle, including straight axle conversions and coilover conversions.

*At 3:30, we discuss upgrading your wheels and tires to complement your new lift, and how installing a taller tire will give you even more ground clearance.

*At 5:02, we talk about how to determine what type of lift components to buy for your vehicle, and we begin the installation of a RevTek coil spacer lift kit on our project Toyota 4Runner.

*At 6:33, we install a Fabtech eight-inch lift kit on our project Ford F250.

*At 9:42, we explain how to shop for lift kits here at AndysAutoSport.com.

*At 10:07, we finally get to have some fun with our F250 and 4Runner by running them through some mud and tough terrain!
Fits On:

Description:
Skyjacker Softride Technology enhances every steely aspect of coil spring performance, giving you all the off-road handling you need while still providing the a smooth street ride. Skyjacker Softride coil springs use only American steel and the individual coil of each spring are shotpeened with hard steel pellets at very high velocities. Shotpeening compresses the surface of the steel which will increase the tensile strength of the spring. Skyjacker Softride Springs use of "bolt" style spring clips eliminates friction and will ensure a long lasting quality product. There's no question that Skyjacker springs are one of the best things you can ever use for your vehicle.

Features:
• Smooth out your ride feel and add extra strength to your suspension with Skyjacker Softride Leaf Springs
• Custom-made to your exact year, make and model truck or SUV
• Crafted from top-quality American steel
• Shot-peened leafs provide maximum flexibility and travel with excellent strength
• Bolt-style spring clips reduce friction by cradiling the leafs for a longer spring life
• Tapered ends provide extra flexibility
• Direct bolt-on installation in place of your stock leaf springs
SkyJacker, a well-known brand amongst off-roading enthusiasts, designs suspension systems for most kinds of trucks and 4x4s. Based out of West Monroe, Louisiana, SkyJacker delivers with their tried-and-true approached to lift kits, leveling kits, shocks, steering stabilizers and more.

For the person looking to outfit their truck so as not to get stuck in the ruts, the products from SkyJacker are a great way to go.
Not able to find what you are looking for?

2 Inch Front Leaf Spring Pro Comp Lifted Leaf Springs 22210
4 Inch Front Leaf Spring Pro Comp Lifted Leaf Springs 22410
4 Inch Rear Leaf Spring Pro Comp Lifted Leaf Springs 22415
Pro Comp Lifted Rear Replacement 2.5" Leaf Spring - Jeep Wrangler
Pro Comp Lifted Leaf Spring 22210