Skyjacker Degree Shim - 4 Degrees 2.5"-3"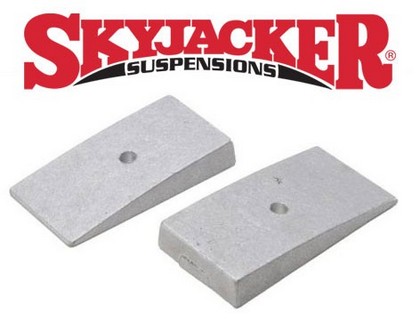 Skyjacker Degree Shim - 4 Degrees 2.5"-3"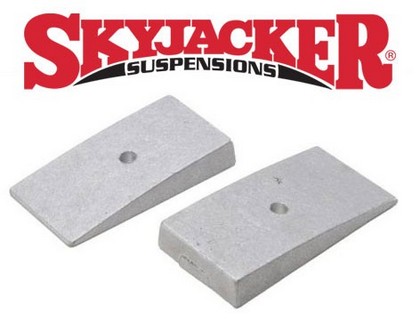 Fits On:

All Jeeps (Universal), All SUVs (Universal), All Trucks (Universal)
Description:
Skyjacker's quality leaf spring axle shims are no exception are made from high quality aluminum. These shims will allow for accurate pinion angle adjustment and better ride control. Skyjacker axle shims are available in flat or contoured styles for springs over or under the axle.
SkyJacker, a well-known brand amongst off-roading enthusiasts, designs suspension systems for most kinds of trucks and 4x4s. Based out of West Monroe, Louisiana, SkyJacker delivers with their tried-and-true approached to lift kits, leveling kits, shocks, steering stabilizers and more.

For the person looking to outfit their truck so as not to get stuck in the ruts, the products from SkyJacker are a great way to go.
Q: What are shims? Why buy them?
A: Shims are thin metal wedges that have been machined to a specific thickness in order to change suspension and wheel geometry for alignment purposes. By adding or reducing the amount of shims it is possible to change camber and castor angles which can have a dramatic effect on vehicle handling and control. Any time you alter your vehicle's suspension or add new wheels and tires it is important to check and adjust the alignment on a modern alignment machine. For many vehicles, the only way to get the alignment into spec is with the addition of shims. However, adding and removing shims is a very precise job and should be left to a professionally trained alignment specialist. If you are trying to guess how many shims to add you could wind up hurting your vehicle's performance more than helping it.


Not able to find what you are looking for?

FRONT + REAR NEW Premium Ceramic Disc Brake Pad Set With Shims KFE1593 KFE1544
NEW PREMIUM COMPLETE SET OF REAR METALLIC DISC BRAKE PADS WITH SHIMS
FRONT + REAR New Premium Ceramic Disc Brake Pad Set With Shims KFE815 KFE905
HOTCAMS Valve Shim Kits HCSHIM31 Shims 10.00mm OD - KTM RC8, 530, 690, 990
NEW PREMIUM COMPLETE SET OF FRONT CERAMIC DISC BRAKE PADS WITH SHIMS