Skyjacker Body Lift Kit - 3" Lift (Auto Transmission)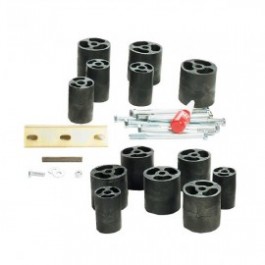 Skyjacker Body Lift Kit - 3" Lift (Auto Transmission)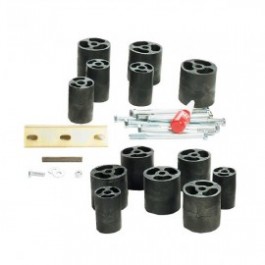 Fits On:

Description:
Get up to three inches higher than the rest of the world with one of these Skyjacker body lift kits. The kits raise your truck's body off of its frame with nylon lift blocks, allowing you to fit larger tires and wheels than stock without the need for custom driveshafts or realignment. Most applications come complete with steering extensions (where required), bumper brackets, and all necessary mounting hardware.
SkyJacker, a well-known brand amongst off-roading enthusiasts, designs suspension systems for most kinds of trucks and 4x4s. Based out of West Monroe, Louisiana, SkyJacker delivers with their tried-and-true approached to lift kits, leveling kits, shocks, steering stabilizers and more.

For the person looking to outfit their truck so as not to get stuck in the ruts, the products from SkyJacker are a great way to go.
Q: What is a body lift kit? Why buy one? How does a body lift differ from a suspension lift, and how does either of those differ from a leveling lift?
A: There are many ways that you can lift your vehicle. The most common forms include body lift kits, suspension lift kits and leveling lift kits. Body lift kits are perhaps the most practical, affordable and easy to install of all the lift kit types. With a body lift spacers are added between the vehicle's body and frame which raises the body further off of the ground and makes room for larger tires in the wheel well. With a body lift you do not have to add longer shocks, extended brake lines or change the steering geometry, so the cost is minimal. The main down side is that you do not gain ground clearance underneath the vehicle, however if you are looking for an affordable way to run larger tires, this is it. Suspension lift kits are pricier and achieve full vehicle lift through taller springs and longer shock absorbers. The upshot is that you gain clearance under the vehicle as well as clearance for larger tires. The down side is these kits are much more complex requiring more parts and longer installation time, all of which costs more money. Leveling kits are mainly geared toward street level enthusiasts who are after a specific look for their truck. They utilize helper springs or spacers in order to boost the ride height on only one end of your rig so that it rides with a level stance and potentially can clear larger tires.

Q: How tall of a body lift can I safely put on my truck/SUV?
A: In general, 2-3 inches is the maximum amount considered safe for a body lift. In some cases, you may not see anything above a 2-inch body lift available for your vehicle due to various clearance or safety issues, such as having to extend your steering shaft.


Not able to find what you are looking for?

Performance Accessories 60123 Body Lift Kit 3" Lift w/Steering Extension
Performance Accessories 642 Body Lift Kit
Performance Accessories Body Lift 3 in. Ford Ranger Kit 833
Performance Accessories 542 Body Lift Kit
Rough Country 3.75" Suspension/Body Lift Kit Dodge Ram 1500 4WD 352