EXTERIOR
INTERIOR
LIGHTS
PERFORMANCE
SUSPENSION
BRAKES
DRIVETRAIN
AUDIO
WHEELS
GARAGE
Skunk2 Exhaust Muffler 2.25" (60mm)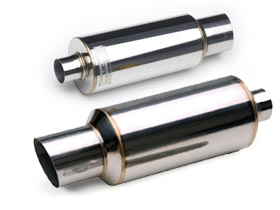 Skunk2 Exhaust Muffler 2.25" (60mm)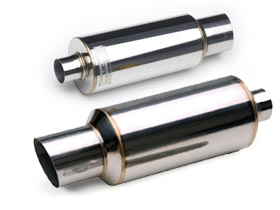 Fits On:

Sport Compact Cars (Universal)
Description:
Skunk2 offers several universal muffler options for the performance enthusiast looking to modify their existing exhaust system, or construct their own. Our universal mufflers are manufactured to the same high quality specs and materials as our Mega Power cat-back exhaust systems and come standard with a 4"tip.
At Skunk2 Racing their goal is to build the highest quality and best performing aftermarket parts for today's sport compact cars. Skunk2 Racing products are designed for enthusiasts by enthusiasts. Drawing on nearly a decade of experience in the sport compact industry, they are able to create products that cater to the needs of the true enthusiast. As part of their commitment to continually build the best products, Skunk2 Racing remains actively involved in various forms of motorsports. Racing provides them with the data necessary to produce high performance parts utilizing innovative design, advanced metal alloys, cutting-edge manufacturing methods, and stringent quality control measures. All Skunk2 Racing products are carefully planned and designed using the latest computer simulation and modeling techniques, followed by careful testing in controlled laboratory environments using state of the art equipment. Furthermore, each product is subjected to rigorous road and race testing to ensure proper performance in the most extreme conditions. For these reasons, top street cars and race cars around the world rely on Skunk2 Racing products.

If you aren't yet convinced of the quality of Skunk 2 products, check out their track record:

• 1999 - Skunk 2 finished in drag racing with a perfect season.

• 2000 - The Skunk2 Integra was the first naturally aspirated car to run 10 seconds; it would take another year and a half for the competition to do the same.

• 2000, 2001, and 2002 - All Hondas finishing on the podium in World Challenge utilized Skunk2 parts or Skunk2 engines.

• 2005 - Marked the return of Project Beta and the Skunk2 Team once again redefined the standard of speed and performance by smashing its own records.
Q: What is a muffler? Are there different types of mufflers?
A: According to our resident expert Deryl Atanasu, Mufflers are positioned by the manufacturer where there is space on the car. All mufflers tend to be placed behind the rear axle, as this allows a lower floor-pan in the passenger compartment. Vehicles with single exaust generally have the muffler placed in a direct line with the tailpipe and just before the exaust tip. Some high-performance vehicles have a dual exaust (i.e. corvettes), where both left and right sides have a muffler in a direct line with the tailpipe and just before the exaust tip. Other vehicles (i.e. camaro, firebird) have a single exaust pipe going back just past the rear axle. It then enters a muffler that is mounted in a side to side position. From there two tailpipes exit the muffler and extend to the rear or out the side of the vehicle behind the rear axle.