Silvertronic Easy Access Scope Series Back Probe Kit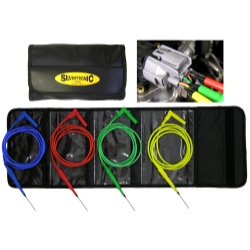 Fits On:

Description:
Features and Benefits:

•This high quality test lead kit features premium leads and easy access back probes that are ideal for making electrical contact with a variety of automotive connectors
•Featuring four color coded, extra long 76" , double insulated Silicone Test Leads (IEC Rated 1000V, CAT III, 20 Amp)
•Silicone leads are impervious to extreme temperatures, automotive solvents and remain extremely flexible over time
•Also included are four color coded easy access back probes that allow connectivity to fuel injectors, MAP and TPS sensors, as well as any weather pack seal type connectors
•Packed in a four pocket test lead organizer for convenient storage

Each Kit Includes: -Double-Insulated Silicone Test Leads, one end terminating in a straight fixed shrouded plug, the other in a right angled plug, both compatible with all standard 4mm (Banana) instrument sockets. 76" Length 1 Blue, 1 Red, 1 Green and 1 Yellow; Easy Access Miniature Back Probes (0.7mm/0.028" O.D.) 1 Blue, 1 Red, 1 Green and 1 Yellow.
Not able to find what you are looking for?

Vintage SNAP-ON GFX6 Extension and Miscellaneous Sockets 14 pcs
CRAFTSMAN - MISCELLANEOUS NEW TOOLS - (6 PIECES )
SNAP-ON MISCELLANEOUS 1/2, 3/8, 1/4 DRIVE SOCKETS
USED Mac Tools SAE T-Handle Hex Key, miscellaneous set of 5
(7) Silver Eagle By Matco Miscellaneous Tools