SAS Safety Nuisance Dust Mask 50 / Box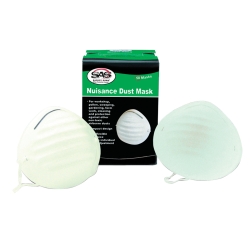 Fits On:

Description:
Features and Benefits:

•Dust mask protects against non-toxic dusts, powders, pollen, and other common airborne particles
•Soft, flexible nosepiece permits individual adjustment to face
•Compact design easily worn with glasses and goggles
•This one-size-fits-all mask is perfect for home, factory, farm, and garden use

Applications include the following:
•Wood and metal sanding
•Grinding operations
•Dusty work areas
•Lab or clean room use

Caution: for comfort use only. Not NIOSH approved.
Not able to find what you are looking for?

Cruiser Apparel Stand Mover Garage Motorcycle Motorcross Trials Heavy Duty
Front Bike paddock Stand Wheel Lift Chock Garage Motorcycle Apparel Cruiser
Apparel Mustang T-Shirt Short Black Fox Body Garage Large
Apparel Gift T-Shirt Short Sleeve Black Fox Garage XX-Large
Apparel Mustang T-Shirt Short Black Fox Body Garage Medium