Sarona Body Kit - Front Bumper Spoiler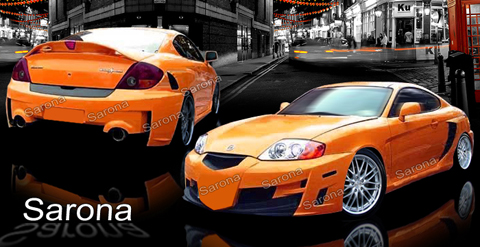 Sarona Body Kit - Front Bumper Spoiler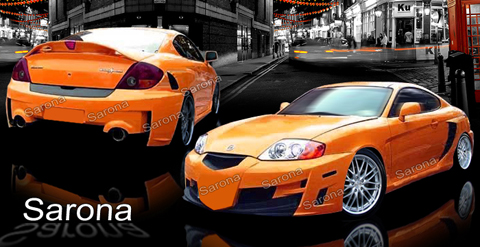 Video Description:


Check out this episode of Andy's Auto Sport TV where we explain what the difference is between fiberglass and poly-urethane. Most body kits are made out of one or the other, and we give you every insight you'll need in order to make an informed buying decision. Check it out!
Fits On:

Description:
Front Bumper Spoiler - Replaces the bumper cover or the complete bumper including the bumper reinforcement and absorbers. Fiberglass.
Sarona makes exterior styling components that are innovative, diverse, and of great quality. They continually unveil new products, and are certainly a trusted manufacturer of body kits throughout the industry.

Sarona is a manufacturer based in Queens, NY, and they specialize in making high-quality fiberglass products. The owner of the company offers a famous warranty on all Sarona products: if are unable to fit the product to your vehicle, he will personally fly out and install the product for you! It's a wildly bold claim, and to date we have not once had to call him out on that promise. It's obvious that Sarona is a company that makes a great product, and they know it.
Q: I see the same style of body kit listed under different brand names. What's the difference?
A: Indeed, you will sometimes see the same exact style of body kit listed under two or more different brands on our website. In this case, it means that the exact same style is just made by more than one manufacturer. Each of the body kit manufacturers whose product line we carry is an elite body kit brand, yet each has its own unique manufacturing process. Read about this manufacturer section under the detail product listing for each brand to learn more about each. Also feel free to contact us to ask any other questions you might have.

Q: Do the body kits you sell come already painted?
A: No they don't. They'll come in an unpainted finish, and it's expected you'll get them painted after you receive them. You can paint it yourself, but most people take them to a body shop to have them painted and installed.

Q: Do you put a body kit on over your factory bumpers, or do you replace your factory bumpers with a body kit?
A: Some body kits come with bumpers that replace your entire factory bumpers while others come with add-on lips that attach to your existing bumpers. It all depends on the brand and style of the body kit.

Q: Are body kits and ground effects the same thing?
A: Yes. Ground effects, body kits, spoiler kits, bumper kits and aero kits are all terms that mean the exact same thing.

Q: What exactly is a body kit? Why buy a body kit?
A: A body kit is essentially a collection of parts that, when installed on your car, modify its appearance. Most body kits modify the look of the front and rear bumpers and of the rocker panels on a car. Many body kits consist of custom bumpers that replace your factory bumpers, while others include lips or fascias that you add to your factory bumpers. Almost all body kits come with sideskirts that are installed on top of your factory rocker panels. Body kits often create the look of a lowered vehicle and can give your car an aggressive look, a super-clean flowing look, or a race car look, to name a few types of styles. Out of all available modifications, body kits probably make the biggest impact on the appearance of a car. Installing a body kit on your car will completely change your car's look, and will certainly turn peoples' heads as you drive down the street!

Q: What's the difference between fiberglass and poly-urethane body kits?
A: The difference between fiberglass and poly-urethane body kits is that they are made from different composite materials. Both types of materials have positive qualities. Urethane is a rubber-type material that is very flexible and will hold up well in the case of an accident. Urethane is therefore popular for its durability. Fiberglass body kits in general are less flexible than urethane body kits (although this definitely depends on the manufacturer), but are more resistant to extreme weather conditions. Additionally, paint adheres very well to fiberglass, so there likely will not be paint problems with a fiberglass. Finally, fiberglass kits are relatively inexpensive. Both composites are used widely throughout the world for body kit manufacturing, and each has proven to be very popular.

Q: What all do body kits come with?
A: Full kits generally include the front bumper, the side skirts, and the rear bumper. Look at the body kit description to see exactly what is included. Some kits come with fender flares, wings (spoilers), hoods, or other styling accessories.


Not able to find what you are looking for?

Rancho Lift Kit Component For RS6548BK Series Lift Kits RS6548B
Airaid 100-251 Air Intake Kit Component GM F Body 3.5" Drivers Side
Airaid 100-259 Air Intake Kit Component GM A Body 3.0" Passenger Side
Airaid 100-250 Air Intake Kit Component GM F Body 3.0" Drivers Side
Airaid 100-253 Air Intake Kit Component GM F Body 3.0" Passenger Side