EXTERIOR
INTERIOR
LIGHTS
PERFORMANCE
SUSPENSION
BRAKES
DRIVETRAIN
AUDIO
WHEELS
GARAGE
RK Sport Body Kit (Urethane)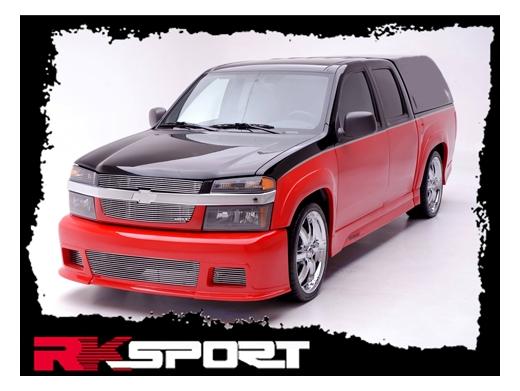 This Body Kit includes the following 9 components:
Front Bumper (Urethane)

Sideskirts - 1 of 6 Piece Set (Urethane)

Sideskirts - 2 of 6 Piece Set (Urethane)

Sideskirts - 3 of 6 Piece Set (Urethane)

Sideskirts - 4 of 6 Piece Set (Urethane)

Sideskirts - 5 of 6 Piece Set (Urethane)

Sideskirts - 6 of 6 Piece Set (Urethane)

Grille Kit (Urethane)

Rear Bumper Roll Pan (Urethane)
prev
next
Video Description:


Check out this episode of Andy's Auto Sport TV where we explain what the difference is between fiberglass and poly-urethane. Most body kits are made out of one or the other, and we give you every insight you'll need in order to make an informed buying decision. Check it out!

Video Description:


Simply put, your body kit will NOT come painted. In this video:

*At 0:15, we explain how your body kit will arrive, and what kind of prep work you will have to do before installing your new body kit.

*At 0:37, we tell you what to expect when ordering carbon fiber body parts.
prev
next
Fits On:

This body kit includes:
Description:
Based off the original design of the Colorado Extended Cab kit, the RKSport 04-Up Colorado Crew Cab Body Kit, follows the same great lines to provide an outstanding look. This kit includes a complete front bumper replacement (10012001), grill insert (10012006), side skirts (88889512, 88889516, 88889517, 88889518, 88889519, 88889520) and rear roll pan (10012002). RKSport ground effects components are manufactured from the highest quality urethane available to provide increased flexibility, durability and impact resistance. Each kit comes with all OE style mounting hardware and detailed instructions for easy installation.

Fits 04-Up crew cab models.
RK Sport prides themselves on their ability to service GM aftermarket needs with excellent products. They tolerate nothing other than the highest quality of parts available. Their body kits are made of poly-urethane.

RK Sport was founded by R.K. Smith. R.K. knows first-hand with his extensive racing background that having the best team makes a winning program in both racing and business. In 1982 R.K. was named "Southern California's SCCA Driver of the Year". Then in 1983 and 1985, R.K. won two National Championship titles in a prototype Swift. In 1990 and 1992, he won two World Challenge titles in a Corvette. Finally, in 1993 with his experiences both on and off the track, R.K. founded RK Sport, Inc.

Today, RK Sport specializes in making custom parts for most domestic vehicles.
Q: Do you put a body kit on over your factory bumpers, or do you replace your factory bumpers with a body kit?
A:
Some body kits come with bumpers that replace your entire factory bumpers while others come with add-on lips that attach to your existing bumpers. It all depends on the brand and style of the body kit.
Q: What exactly is a body kit? Why buy a body kit?
A:
A body kit is essentially a collection of parts that, when installed on your car, modify its appearance. Most body kits modify the look of the front and rear bumpers and of the rocker panels on a car. Many body kits consist of custom bumpers that replace your factory bumpers, while others include lips or fascias that you add to your factory bumpers. Almost all body kits come with sideskirts that are installed on top of your factory rocker panels. Body kits often create the look of a lowered vehicle and can give your car an aggressive look, a super-clean flowing look, or a race car look, to name a few types of styles. Out of all available modifications, body kits probably make the biggest impact on the appearance of a car. Installing a body kit on your car will completely change your car's look, and will certainly turn peoples' heads as you drive down the street!
See all 6 questions & answers