EXTERIOR
INTERIOR
LIGHTS
PERFORMANCE
SUSPENSION
BRAKES
DRIVETRAIN
AUDIO
WHEELS
GARAGE
Remus Mufflers - RIGHT Romulus Rear Muffler W/ 2 Exhaust Tips (4.02x2.56 Inch)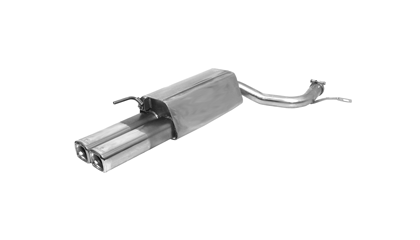 Remus Mufflers - RIGHT Romulus Rear Muffler W/ 2 Exhaust Tips (4.02x2.56 Inch)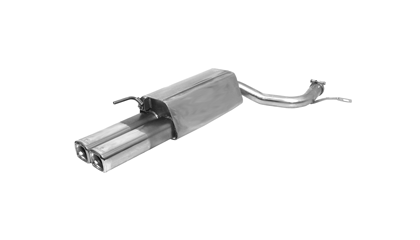 Video Description:


Everything you need to know about exhaust systems is explained on this episode of Andy's Auto Sport TV! We explain what exactly a cat-back exhaust system is, we explain why buying an exhaust system is Step 1 for improving performance, and we give information about how to make a buying decision from all the brands we carry here at Andy's.
Fits On:

97-03 Chevrolet Corvette 5.7L V8 340hp
Description:
Stainless steel and aluminum are used on all Remus exhaust components to promote good looks and long life. Remus mufflers create a sonic quality unlike any other. Laser-guided machinery and precision welding equipment is used to ensure flawless quality control on all Remus exhaust components. With a tradition going back to motorcycle racing, Remus exhaust parts are now available to give your car unbeatable horsepower and sound.
Remus products are made in Austria, and while the name may not be the most familiar to many Americans, the name is very familiar to European tuners and for great reason.

Why Remus?
1) Each Remus product is sound-engineered! They don't just make an exhaust pipe and sell it. They prototype a product after careful engineering, then put it in a sound booth and test the sound, and continue the process of re-engineering and testing until the product is perfect. Very few exhaust manufacturers have such a rigorous sound quality procedure.
2) Easy Do-it-yourself bolt-on parts for the car-specific products Remus makes.
3) Number 1 exhaust manufacturer in the world, and according to the Sport Auto poll conducted among tuners in Europe Remus is the best exhaust manufacturer on the planet.
4) Their products are EC approved (which is a European standard that is even more rigorous than regulations here in the U.S.)
5)Remus products are TUV and ISO certified.

If you want a really solid product that is guaranteed not to give your car a whiney lawn-mower muffler sound, it's a 100% guarantee that a Remus product will accomplish that for you. Sound is everything to Remus.
Q: What exactly does "cat-back" mean when people say "cat-back exhaust"?
A: Many performance exhaust systems are also referred to as cat-back exhausts. Cat-back means that the exhaust piping starts from your catalytic converter and runs back all the way to the exhaust tip(s).

Q: How do you install an exhaust system?
A: Exhaust systems are installed using the supplied hardware, which includes gaskets and high grade bolts. This is truly a bolt-on procedure and most exhaust systems are an exact fit with no modifications needed. For this reason, getting a performance exhaust system is normally considered one of the easiest ways to gain noticeable horsepower for your car.

Q: Does a cat-back exhaust come with a catalytic converter?
A: No, "cat-back" actually means from the rear of the catalytic converter back, so it will include everything after the converter, but not the converter itself.

Q: What does an ehaust system do? Why buy an exhaust system?
A: A performance exhaust system is used to increase horsepower for your car by allowing exhaust gases to pass through your exhaust system with less backpressure and less resistance. Larger-diameter piping is normally used, depending on the application, in order to gain more horsepower and torque levels throughout the power band. A performance exhaust system can be the most cost-effective modification you can do to get more horsepower out of your car, not to mention that it will give your car a deeper more aggressive sound. And depending on the brand, performance exhaust systems normally include gorgeous new mufflers that add a great appearance to your car.