Pyramid Inline Fuse Holder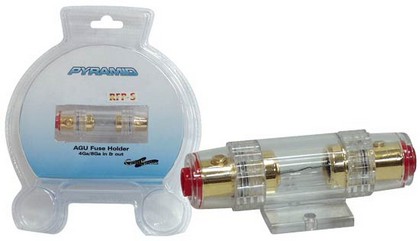 Pyramid Inline Fuse Holder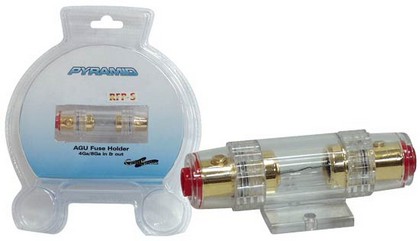 Fits On:

All Jeeps (Universal), All Vehicles (Universal)
Description:
2 Fuse Wiring Panel
2 In/4 Out Configuration
Gold Plated Fuse Holders & Wire Screw Terminals
8/10/12 Gauge Compatible
Complete With Fuses
Pyramid is a car audio company that offers affordable alternatives to some of the pricier brands on the market. A family owned business based in Brooklyn, NY Pyramid offers person to person customer service that is becoming increasingly harder to find in the world of outsourcing and call centers. With two decades of industry experience they have a large catalogue to choose from with audio and electrical components including power supplies, amplifiers, crossovers, speakers, capacitors, subwoofers and much more. No longer do you have to pay big bucks to have a custom stereo setup. With Pyramid you can meet your needs on a conservative budget.
Q: What are the different types of cables I might need for a custom audio or video setup in my vehicle? What does each type do exactly?
A: There are several different types of cables involved in a custom car audio setup. Plain old electrical wire is often used to hook up your head unit to a 12 volt power source however amplifiers use much heavier gauge power wires because they are high power applications. Most power wires are red in color and ground wires should be black in color to avoid confusion. Remember don't skimp out on the ground wire, make sure it is large and high quality to ensure your system keeps working right. Speaker wire or speaker chord is a specialized form of woven copper wire used to connect your speakers to the rest of the system. These wires come in pairs (two wires connected side by side) and are sometimes bare on the end but often times have male RCA style end-fittings. Often times recognized by its transparent insulation it usually comes in a large gauge for better sound quality. Patch cables are thick paired cables with male RCA style fittings used to connect various car audio components but most commonly used to connect the head unit to the amplifier. Remember when you see RCA connectors if they are red and white that usually indicates an audio signal and yellow indicates a video signal. There are also cables that allow you to run an iPod into your head unit that consist of a small chord with 1/8" male stereo connectors (like your iPod headphones have) on either end. One end goes into the iPod output and the other end plugs into your car stereo's accessory input.


Not able to find what you are looking for?

Complete Aluminum Battery Box Relocation Kit Universal with cables and hardware
68 69 70 71 72 El Camino Tailgate Cable and Hardware Set
DORMAN BRAKE HARDWARE AND CABLES GEARSHIFT CABLE
RAYBESTOS BRAKE HARDWARE AND CABLES BRK CABLE BC95820
DORMAN BRAKE HARDWARE AND CABLES BRAKE CABLE C660027