EXTERIOR
INTERIOR
LIGHTS
PERFORMANCE
SUSPENSION
BRAKES
DRIVETRAIN
AUDIO
WHEELS
GARAGE
Pyle 2 Channel 2400 Watt Bridgeable Mosfet Amplifier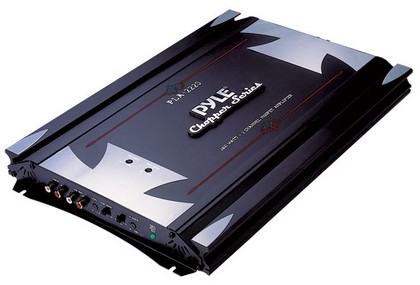 We did your comparison shopping for you!
Why are we showing competitor prices? Click Here
Pyle made a name for themselves in the 1960s building high-end subwoofers. Their original Pyle Driver speaker was a mainstay in households for several decades. Since then they have expanded their lineup to include a huge range of audio and electronic entertainment products from speakers to DVD players. Based in Brooklyn, NY Pyle has always been proud of its excellent customer service. They also take pride in the fact that they are able to offer high-quality products at very reasonable prices for those who are on a tight budget. Born out of good old American ingenuity, Pyle driver has grown to become a strong presence in the electronic entertainment world.
Q: What is the difference between a mono amplifier, a two-way amplifier, and a four-way amplifier? Which one should I buy?
A:
When choosing an amplifier it is important to know what your goals are for your sound system. If you want to power a single subwoofer a mono amplifier is a good choice. A mono amplifier is a single channel amp that is ideal for low frequency situations because our ears cannot hear the difference between stereo and mono when the frequency is that low. Two-way amplifiers have two channels and are also often used to power sub-woofers however they can also be used with smaller full range speakers, but they cannot be used with both subs and mid-range speakers at the same time. A Four-way amplifier is the most versatile unit of the bunch. It features four output channels and is best suited for use in multi-speaker setups when you want to power four or more mid-range speakers or a combination of full-range speakers and subwoofers.
Q: Why should I buy an amp? What is the benefit?
A:
If you want to upgrade your stock stereo system for better sound quality and a little more kick, an amplifier will be a crucial component in your new setup. Amplifiers do just what they advertise; they boost the output of low power sound signals coming out of the stereo allowing you to use higher-quality, more powerful speakers which will give your stereo better sound and increased volume. If you run high-power speakers and subwoofers without an amplifier the results will be a terrible sounding stereo system and a lot of wasted potential in your nice speakers. But add the right amplifier to the mix and suddenly your stereo will be powerful and crisp.
See all 7 questions & answers