Pyle Adjustable Headrests W/ Built-In 7" TFT/LCD Monitor W/IR Transmitter & Cover (Black)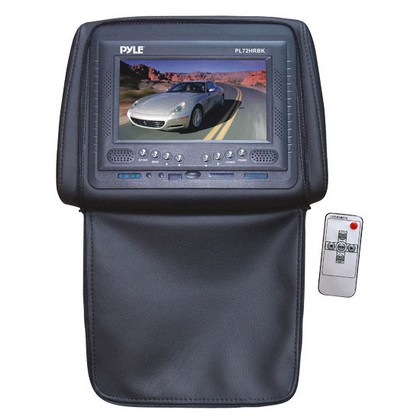 Pyle Adjustable Headrests W/ Built-In 7" TFT/LCD Monitor W/IR Transmitter & Cover (Black)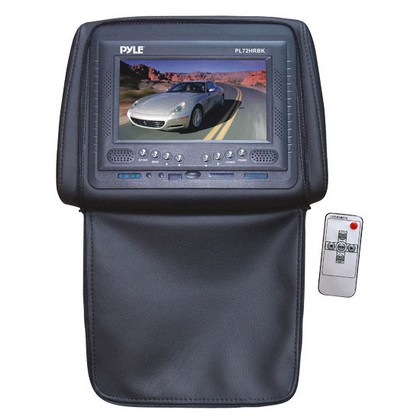 Pyle made a name for themselves in the 1960s building high-end subwoofers. Their original Pyle Driver speaker was a mainstay in households for several decades. Since then they have expanded their lineup to include a huge range of audio and electronic entertainment products from speakers to DVD players. Based in Brooklyn, NY Pyle has always been proud of its excellent customer service. They also take pride in the fact that they are able to offer high-quality products at very reasonable prices for those who are on a tight budget. Born out of good old American ingenuity, Pyle driver has grown to become a strong presence in the electronic entertainment world.
Q: How do I know if the DVD headrests will fit in my vehicle? Are they specifically made for my vehicle?
A: While some manufacturers offer headrest DVD kits for specific makes and models of cars many of the units are universal kits designed for custom installations. Before purchasing universal DVD monitors that are designed to mount in the headrest it is first important to carefully measure your headrests to make sure the monitor you are looking at will fit your application. Measure the full outside dimensions as well as the distance between the support posts and the diameter of the posts themselves. Using this information you should be able to get the manufacturer to tell you if their monitor will fit. It is also important to note if you have power or heated headrests as the internal electronic components may not allow for the installation of headrest monitors. Many universal mount monitors come in different sizes so if a 9" monitor won't fit your application you might be able to step down to a 7" monitor to make it fit.


Not able to find what you are looking for?

2 Boss BV-6VIS 6" Black Headrest video monitors
Bully Dog Watch Dog Monitors 40402 (Black) !!One Monitor Only!!
Earbuds Racing Communications,Racing Radios, Racing Monitors, Driver Racing Ear
Bluetooth LCD Rear View Mirrors Video Monitors Handsfree Car Kits 4.3" Bracket
Suzuki tachometer with monitors 4 inch white face