EXTERIOR
INTERIOR
LIGHTS
PERFORMANCE
SUSPENSION
BRAKES
DRIVETRAIN
AUDIO
WHEELS
GARAGE
Pirelli PZero Run Flat 275/35R20 XL102Y BMW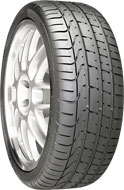 $544.00
For each

Free Shipping!
*Continental U.S. only.
Section Width : 275mm
Diameter : 20"
Speed Rating : Y
Aspect Ratio : 35
Pirelli PZero Run Flat 275/35R20 XL102Y BMW

$544.00
For each

Free Shipping!
*Continental U.S. only.
Section Width : 275mm
Diameter : 20"
Speed Rating : Y
Aspect Ratio : 35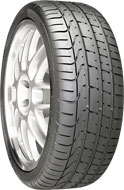 Fits On:

All Jeeps (Universal), Universal
Description:
Pirelli PZero Run Flat

Treadwear: 220
Traction: A
Temperature: A
Speed Rating: Z


About the PZero Run Flat
Twenty years on, PZero™ is still a point of reference in the ultra high performance market: technologically the most advanced, the best performing, the most coveted. A tire designed for the most prestigious OE fitments on premium new models (Ferrari 599 GTB, Maserati Quattroporte Sport GT, Audi Quattro R8, Mercedes S-Class AMG, just to name a few). Another milestone in a continuous story of success. Self supporting Run Flat version also available.

- The new attractive asymmetric tread design offers superior handling and braking performances on both dry and wet surfaces.

- The new high-grip compound with nano-composites is the perfect solution for an enhanced driving stability and sensitive steering control.

- Three wide longitudinal grooves ensure an high aquaplaning resistance, while the s-shaped sipes are designed to reduce rolling noise.

- The external area with large, rigid blocks is the ideal support to exalt handling characteristics when driving on the limit, bestowing worry-free emotion.



Pirelli has long been the go-to brand for high performance tires. Their history dates back well over a century to 1872 when Giovanni Battista Pirelli began producing rubber products. Not long after, Pirelli began making some of the earliest tires for bicycles and automobiles alike. As early as the 1920's Pirelli had already become a legend in racing tires with some of the top name driver's in history such as Fangio and Ascari, bringing home numerous trophies on Pirelli tires. Now in the modern era Pirelli tires are still known for their outstanding performance and durability. In fact they sponsor a host of racing events all over the globe and are currently the sole tire supplier for Formula One. The legendary Italian company continues to develop and innovative new designs and push the performance tire industry in new directions. With a large presence on every major continent, Pirelli is truly at the front of the pack in the tire world.
Q: What different tire types are there, and how do I know which one is best for me? How do I read tire sizes? How do I know which tire size is best for my vehicle?
A: Tires are one of the most important components on any vehicle. They can transform a ride from soft to harsh, improve handling, make your truck off-road competent, or even affect gas mileage. There are numerous different tire types developed for the different styles of driving that people have adopted. The major categories include off road tires or mud &snow tires, all-season tires and high performance tires. There are also tire options that blend the line between these categories. All-season tires are the most prevalent and are designed to work in the biggest array of conditions from dry roads to wet roads to the occasional ice and snow. These are the tires that most commonly come on passenger vehicles and light trucks/SUVs; they usually have the highest tread wear rating so they last the longest and are the most affordable of the groups. Off road tires are designed for more extreme conditions such as loose dirt, mud or deep snow. These are often used by 4x4 enthusiasts and they sometimes require a lift in order to clear the larger more aggressive tread designs. These tires tend to be noisy on the street, and wear out quicker than standard tires, but they really shine when the terrain gets rough. High performance tires are designed to maximize traction and handling for sports cars or performance oriented machines. These tires are rated for higher speed and increased grip but also wear out quicker due to softer compounds, and tend to be worse in the wet than all-season tires. You should choose your tire type based on how you use your vehicle the majority of the time. If you like performance driving you will want a performance tire, but if you commute 90% of the time, a good all-season will be probably be the best choice.

Tires come in a host of different sizes, and the sizing is usually stamped right on the sidewall of the tire. Some off road tires use a format that lists the tire diameter, the tire width and the wheel diameter. For example a 31x10.50x15 would mean the tire is 31" tall, 10.50" wide and fits a 15" tall wheel. More commonly though, tires rely on metric measurements using width, aspect ratio and wheel diameter. A 205/65/14 means that the tire is 205 mm wide, that the distance of the sidewall from the rim lip to the tread face (the aspect ratio) is 65% of the tread width (65% of 205 mm), and it should be mounted on a 14" rim.

In general when choosing a tire it is best to replace your tires with the size that was originally fitted to the vehicle. However, it is often popular to increase tire size in order to gain some added performance be it on or off road. In this case it is crucial to do your homework because a tire that is too tall or too wide will rub and damage the body work as well as hurting the tire itself. If you are planning to run larger wheels it is common to run lower profile tires (smaller sidewall) in order to prevent rubbing and to keep the final drive close to stock and the speedometer calibration the same. Many vehicle manufacturers will list tire sizes that fit your vehicle in the owner's manual or on their websites. When in doubt it is best to contact the manufacturer directly to find out if a specific tire size will work with your vehicle.