Performance Teknique 800W - 2 Channel Bridgeable Power Amplifier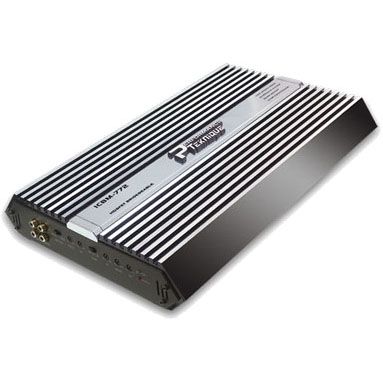 Performance Teknique 800W - 2 Channel Bridgeable Power Amplifier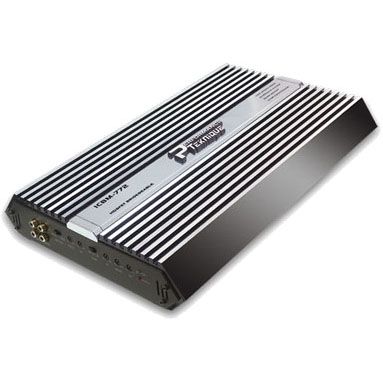 Fits On:

All Cars (Universal), All Jeeps (Universal), All Muscle Cars (Universal), All SUVs (Universal), All Trucks (Universal), All Va... See more

Description:
• Max Output Power : 400W x 2Ch @ 2 Ohm
• Power Output : 175W x 2Ch @ 2 Ohm, 125W x 2Ch @ 4 Ohm, 350W x 1Ch Bridged
• 24dB/OCT. Crossover Slope
• Variable Subsonic Filter (10Hz-100Hz)
• Variable Low Pass Filter (30Hz-500Hz)
• Variable High Pass Filter (50Hz-1KHz)
• Variable 18dB Bass Boost
• High & Low Level Input Through RCA
• Double Sided PCB
• Dual Protection (Thermal & Short Circuit)
• RCA Line Out (Preamp)
• Power & Diagnostic LED Indicator
• 2 Ohm Stable Stereo
• Soft Delayed Power On
• Tri-Mode Capability
• 0.05% THD 
Performance Technique offers something for everybody. Whether you are looking to set up a powerful stereo system, put some TV monitors in for the kids, or protect your pride and joy with an alarm system, Performance Technique has the goods to help you out. The folks at this southern California mobile entertainment company pride themselves on putting all of their products through a grueling testing phase to ensure that each product will provide years of reliable use for the customer, hence their slogan "obsession for perfection". If you are obsessed with car entertainment systems you will love their huge selection. With new products coming out all the time it is clear that the folks at Performance Teknique have a real passion for what they do.
Q: Why should I buy an amp? What is the benefit?
A: If you want to upgrade your stock stereo system for better sound quality and a little more kick, an amplifier will be a crucial component in your new setup. Amplifiers do just what they advertise; they boost the output of low power sound signals coming out of the stereo allowing you to use higher-quality, more powerful speakers which will give your stereo better sound and increased volume. If you run high-power speakers and subwoofers without an amplifier the results will be a terrible sounding stereo system and a lot of wasted potential in your nice speakers. But add the right amplifier to the mix and suddenly your stereo will be powerful and crisp.

Q: What is the difference between a mono amplifier, a two-way amplifier, and a four-way amplifier? Which one should I buy?
A: When choosing an amplifier it is important to know what your goals are for your sound system. If you want to power a single subwoofer a mono amplifier is a good choice. A mono amplifier is a single channel amp that is ideal for low frequency situations because our ears cannot hear the difference between stereo and mono when the frequency is that low. Two-way amplifiers have two channels and are also often used to power sub-woofers however they can also be used with smaller full range speakers, but they cannot be used with both subs and mid-range speakers at the same time. A Four-way amplifier is the most versatile unit of the bunch. It features four output channels and is best suited for use in multi-speaker setups when you want to power four or more mid-range speakers or a combination of full-range speakers and subwoofers.

Q: How many watts should I make sure my amplifier can handle? How do I know which wattage is best for me?
A: Matching your amplifier's power with your speakers is of utmost importance to a good sounding stereo system. If you are planning on running large subwoofers for added bass you should know that subs need a lot more power (around four times more) than the other component speakers in your system. There is no set amount of power that is best for a car stereo system but usually the more power you can run, the richer and fuller the sound quality will be from the system. The most important thing is to match the amp to the speakers you are using. If you are going to run four mid-range speakers and they can handle 50 watts a piece then you'll want an amp that can supply close to 50 watts per channel. In that same system you may run a subwoofer that can handle 200 watts, in which case you will need an amp that can supply at least 150 watts to the sub.

Q: What is a Mono-Block Amplifier?
A: A Mono-Block amplifier is a two channel amplifier, but unlike many stereo amps the two channels are separated into two different systems. The main benefit of this type of setup is that it helps to eliminate cross talk or interference between the two channels, allowing for better sound quality. Mono-Block amps also operate with greater efficiency than most stereo amps. The biggest down side of a Mono-Block is that they cost nearly twice as much as an equivalent stereo amp, so you'll have to decide for yourself if the extra cost is worth it for a sound that is not interfered with and perfectly clean.

Q: What is a Class D Amplifier?
A: A Class D Amplifier is an electronic amp that operates using binary switches so that the amp is either all the way on or all the way off with little to no time spent in transition. As a result, Class D amplifiers are extremely efficient and will make the most use out of limited battery power, such as in an automotive application. These amplifiers are also highly compact and affordable, although they give up a bit in sound quality to more expensive amplifiers.

Q: How Many Channels Should My Amp Have?
A: Choosing the right amplifier is an important part of building your car audio system. Choosing the right number of channels for your amplifier is determined by the number of speakers (tweeters, mid-range and sub-woofers) you are planning to run. In most cases you want to run one speaker per channel. Although it is possible to run multiple speakers off of the same channel it is not usually recommended since it wouldn't optimize sound quality. In general, sub-woofers require more power than smaller speakers so in many cases they will require their own dedicated amplifier.

Here is an example of possible set-ups: If you have a vehicle with four mid-range speakers and a sub-woofer you know will need one channel per speaker for all five speakers. You can either run a five channel amplifier with a dedicated sub-woofer channel in it, or you can use a four channel amplifier for the mid-range speakers and a separate mono or two channel amp for the sub-woofer. The latter option will provide the cleanest sound and allow your subwoofer to get all the power it can use, but either option will work.

Q: What is a MOSFET Amplifier?
A: A MOSFET amplifier is a type of stereo amplifier that works exceptionally well in car stereo applications particularly where mid and high range frequencies are important. The word MOSFET is actually an acronym that stands for Metal Oxide Semiconductor Field Effect Transistor. In plain English this just means that there is a highly efficient conductor inside of these amplifiers that helps them be reliable and produce good sound. Not long ago, MOSFET amps were only available as very high-end units, but now the majority of amplifiers are MOSFET type amps.


Not able to find what you are looking for?

PAC TATO Radio Replacement Interface Retains JBL Amplifiers for Toyota & Lexus
01 02 03 04 Mustang Mach 1000 Amps Amplifiers All 4!
MAZDA RX8 GENUINE BOSE OEM AMPLIFIERs x3
BECKER GRAND PRIX BE-1532 AMPLIFIERS, RECEIVER TUNER USED NICE
MAZDA RX8 PAIR OF BOSE DOOR SPEAKERS AND AMPLIFIERS x 2