Painless Fuel Injection Wiring Harness (For Use With EMC/PMC PN[12200411]) (4L60E Or 6 Speed Transmissions W/Throttle By Wire)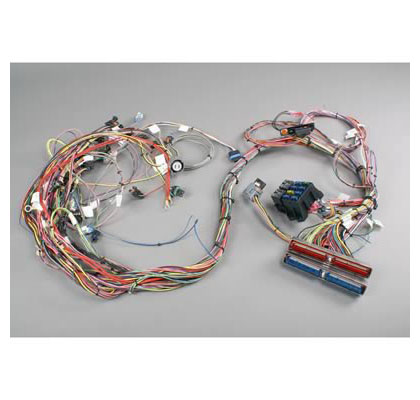 Painless Fuel Injection Wiring Harness (For Use With EMC/PMC PN[12200411]) (4L60E Or 6 Speed Transmissions W/Throttle By Wire)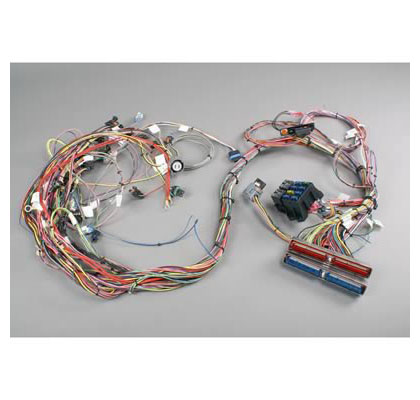 Fits On:

2002-2002 Camaro Ss, Z28, 2002-2004 Corvette Base, 2004-2004 Pontiac Gto Base
Description:
Includes Everything You Need

Bulletproof OEM Style Fuse Block

Wiring Pre-Terminated To Fuse Block

Superior Circuit Protection

Highest Quality Wire You Can Buy

Color Coded Preprinted Wire

Comprehensive Instructions And Tech Support;
While it's true that there are a lot of wiring harness kits and accessories available in the market, there aren't many, if any, that are as easy to use as Painless Performance. We've actually purchased wiring kits that were less expensive than Painless, hoping to save a few bucks, but after purchasing all of the plugs and connectors needed for the installation, we really didn't save much money. In fact, we probably spent more money on gas chasing down the parts that would have been included with a Painless kit than we would have spent just by going with Painless in the first place! So whether you're wiring up a fresh hot rod build, or swapping in a late-model engine into your classic truck, Painless Performance will keep your ride on the road.
Q: What is an engine wire harness? Why buy one?
A: Your vehicle has lots of wires in the engine bay and under the dash board. These wires are crucial for controlling the functions of your motor including the ignition system, gauges, engine management and a host of other functions. If you are working on a restoration project, have added aftermarket ignition components or electronic accessories, or have suffered an electrical fire one of the best available options is to step up to an aftermarket engine wire harness. These harnesses are designed to simplify and cleanup the wiring in your engine bay for a great aesthetic every time you pop the hood. They feature color coded wiring, well designed fuses, and circuit protection to ensure that your system remains protected from short circuits and power surges. With an aftermarket engine wire harness installed you will have a clean and reliable electrical system that will keep your ride running smooth for many years.


Not able to find what you are looking for?

1996 MERCURY 135HP ENGINE WIRE HARNESSES 909
SeaDoo (3) Wire Harnesses: Steering, Engine, REAR - 00 01 RX DI 951 Harness
SeaDoo (3) Wire Harnesses: Steering, Engine, REAR - 00 01 RX DI 951 Harness
1989 MERCURY 150HP ENGINE WIRE HARNESSES 1766
95 Honda Civic Si Engine Wire Harness VTEC OBD1 5speedMT OEM UNCUT WBADGE 929394