EXTERIOR
INTERIOR
LIGHTS
PERFORMANCE
SUSPENSION
BRAKES
DRIVETRAIN
AUDIO
WHEELS
GARAGE
Pacesetter Performance Exhaust System - 4" Tips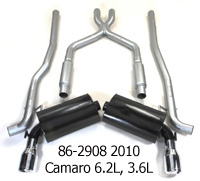 $486.81
For each

Tip Finish : Chrome
Exhaust Finish : Aluminum - Stainless Steel
Pacesetter Performance Exhaust System - 4" Tips

$486.81
For each

Tip Finish : Chrome
Exhaust Finish : Aluminum - Stainless Steel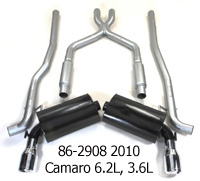 Video Description:


Everything you need to know about exhaust systems is explained on this episode of Andy's Auto Sport TV! We explain what exactly a cat-back exhaust system is, we explain why buying an exhaust system is Step 1 for improving performance, and we give information about how to make a buying decision from all the brands we carry here at Andy's.
Fits On:

2010 Camaro, 6.2L and 3.6L, Cat Back
Description:
Installs behind catalytic converter, legal in all states, Ready to install, nothing else to buy, Uses original factory hangers for easy installation, Up to 12%-14% power increase at the rear wheels, 16 guage aluminized tubing, Mandrel-bent for maximum flow efficiency, Chrome-plated T304 stainless steel tips included
MONZA Performance Exhaust Systems utilize the right combination of larger than-stock, 16-gauge, mandrel-bent tubing and low backpressure, high-flow performance mufflers for cooler, smoother engine operation and increased performance.
Q: How do you install an exhaust system?
A: Exhaust systems are installed using the supplied hardware, which includes gaskets and high grade bolts. This is truly a bolt-on procedure and most exhaust systems are an exact fit with no modifications needed. For this reason, getting a performance exhaust system is normally considered one of the easiest ways to gain noticeable horsepower for your car.

Q: Does a cat-back exhaust come with a catalytic converter?
A: No, "cat-back" actually means from the rear of the catalytic converter back, so it will include everything after the converter, but not the converter itself.

Q: What exactly does "cat-back" mean when people say "cat-back exhaust"?
A: Many performance exhaust systems are also referred to as cat-back exhausts. Cat-back means that the exhaust piping starts from your catalytic converter and runs back all the way to the exhaust tip(s).

Q: What does an ehaust system do? Why buy an exhaust system?
A: A performance exhaust system is used to increase horsepower for your car by allowing exhaust gases to pass through your exhaust system with less backpressure and less resistance. Larger-diameter piping is normally used, depending on the application, in order to gain more horsepower and torque levels throughout the power band. A performance exhaust system can be the most cost-effective modification you can do to get more horsepower out of your car, not to mention that it will give your car a deeper more aggressive sound. And depending on the brand, performance exhaust systems normally include gorgeous new mufflers that add a great appearance to your car.