OTC Pegisys Deluxe PC Scan Tool Kit With Domestic/Asian Cable Kit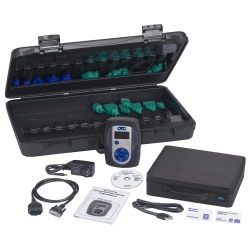 Fits On:

Description:
Features and Benefits:

•J-2534 Reprogramming
•Global OBD II, and Domestic/Asian Enhanced Subscription included
•Domestic/Asian OEM cable kit with carrying case
•Pegisys Diagnostic information included
•Kit includes: Pegisys VCI, OBD II Cable, USB Cable, Domestic/Asian Cables, Software and AC adapter

* PC Required, NO Scope Included

Pegisys based scan VCI hardware device. Pegisys is J2534-1 and J2534-2 compliant. This allows the technician to perform J2534 ALL Makes Reprogramming with purchase of OEM Software.
Not able to find what you are looking for?

ELM327 Super Mini Bluetooth V1.5 OBD2 Car Diagnostic Code Readers and Scanners