Norton 6" Blank A275 PSA Disc Roll Sanding Sheets P400B Grit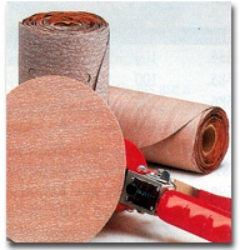 Fits On:

Description:
Features and Benefits:

•Premium heat-treated grain extends life and gives a 30 - 50% faster cut rate
•Premium B-Weight latex paper backing improves performance, is more flexible and easier disc removal
•FEPA P-graded grain achieves a more consistent uniform scratch pattern
•Re-designed bond system optimizes grain adhesion and extends cut life
•Newest water based stearate No-Fill improves load resistance
•No pigment in No-Fill or bond eliminates the risk of color transfer and creates a much stronger bond

A275 is sand paper technology at it's best. It cuts faster, runs cooler, resists loading better and lasts far longer than any conventional sandpaper.
Not able to find what you are looking for?

Indasa 960-80 Rhynostick Redline Roll 80 Grit Self-Adhesive Fileboard Sandpaper
Wet and Dry Sandpaper 1500 / 2000 / 2500 /3000 grit Quality Waterproof Paper
16PC 3" x 5 1/2" WET DRY SANDPAPER 400 600 800 1000 1200 1500 2000 2500 GRIT
Norton 2.75" x 25yd 180 Grit PSA Sandpaper Dura Block GOLD Sticky Back Roll
16PC 3 1/2" x 9" WET DRY SANDPAPER 400 600 800 1000 1200 1500 2000 2500 GRIT