Mountain 10/14T X 6" Bi-Metal Reciprocating Saw Blade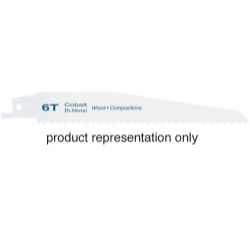 Fits On:

Description:
Features and Benefits:

•Cobalt Bi-Metal reciprocation saw blade
•Cut ferrous and non-ferrous metals, nail embedded wood, composite and plastic
•Fits all types of reciprocating saws
•Universal 1/2" shank
•One blade per package

Professional bi-metal reciprocating saw blades are designed for professional grade applications. Each blades consists of cobalt high speed steel teeth, electron beam welded to a alloy backbone, to provide flexibility and performance. 1/2" universal shank fits all popular reciprocating saws.