EXTERIOR
INTERIOR
LIGHTS
PERFORMANCE
SUSPENSION
BRAKES
DRIVETRAIN
AUDIO
WHEELS
GARAGE
Mishimoto Automatic Transmission Coolers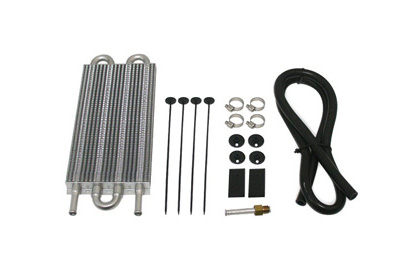 Mishimoto Automatic Transmission Coolers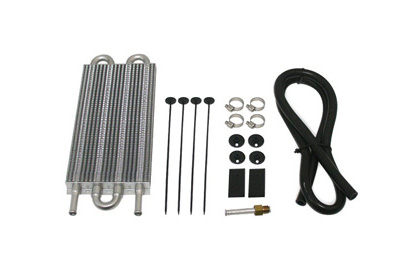 Fits On:

Universal - Fits all Vehicles
Description:
Mishimoto has developed cooling accessories to complement our performance radiators, intercoolers, and carbon fiber intakes. Keep your car cool with a quality fan, radiator cap, thermostat switch, and other accessories. Our premium Mishimoto accessories will satisfy the requirements for a superior, longer-lasting engine.

The Mishimoto Universal Transmission Cooler is used to cool automatic transmissions. Some Mishimoto radiators are only available for Manual transmission applications. By using the transmission cooler, automatic transmission users have the ability to use our all aluminum radiators with their automatic applications.

Tech Specs
Thickness: 3/4"
Length: 15 1/2"
Height: 5"
Core: 12"
Fitting Size: 3/8" Push On

Kit Includes: Transmission cooler, Hose, 4 Plastic Ties, 4 Plastic tie connectors, 4 foam pads, 4 O-ring clamps, 1 drain cock connector

Note: Custom work may be required for fitment and function.

WARRANTY

Mishimoto Performance (MP), warrants all of its products under its "no questions asked" one year warranty policy. Regardless of the defect in product, Mishimoto will replace the original product. Warranty claims must be accompanied by the original sales receipt from an authorized dealer.

A trained professional should install all MP products. Any issues with compatibility or installation should be addressed before attempting to install the product.

The purchaser's remedy for breach of this limited warranty, exclusive of all other remedies provided by law, is expressly limited to repair or replacement of any part or parts. All products returned for warranty consideration must be returned to MP with all transportation expenses prepaid. MP shall not be responsible for damages to its product or injury to persons using the product when caused by improper opening of radiator pressure caps, burst hoses, etc. MP shall not be responsible for injury or harm to persons or property caused by persons or vehicles using our products.
Based in Wilmington, Delaware, Mishimoto Automotive Performance was established in April of 2003 with one goal in mind - to make quality aftermarket parts that can be enjoyed by everyone from the daily driver looking for an OEM upgrade to the extreme racer looking for dependable performance parts. With a staff full of avid racing enthusiasts , they understand exactly what drivers are looking for in parts. Their R&D team is comprised of talented technicians to ensure that they can guarantee satisfaction to all customers.

Mishimoto specializes in cooling products for sport compact cars. Certainly in terms of quality performance radiator, you should have no hesitation when deciding to go with Mishimoto.
Q: How do you install an automatic transmission cooler?
A: All coolers come with fittings for connections to either steel-braided or high-pressure lines. These lines are routed from your oil filter through the cooler into your engine and vice versa, this gives the oil a chance to cool down before returning back into your engine.

Q: What does an automatic transmission cooler do? Why purchase one?
A: The hotter your transmission oil gets, the more damaging it can be for your transmission. During road racing, drag racing or uphill driving, your transmission is put through a lot of strain. If you put your transmission through this type of strain regularly, it is important to add extra protection for your transmission. For ultimate heat control you're going to need a transmission cooler - it's not worth sacrificing your expensive transmission.