Mastercool Dual Temp Plus Infrared Probe Thermometer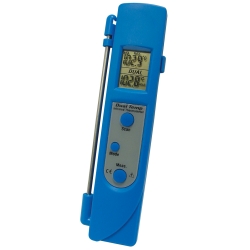 Fits On:

Description:
Features and Benefits:

•Infrared Temp Range: -67 to 428 Degrees F (-55 to 220 Degrees C)
•Probe Temp Range: -67 to 626 Degrees F (-55 to 330 Degrees C)
•Field of view ratio 1:1
•Adjustable emissivity
•Backlit LCD displayThe 52226 Dual Temp Thermometer offers both infrared and contact probe technologies. Other features include lock mode for hands free scanning and Minimum/maximum capture mode. Contact probe locks safely on the side of the unit.
Not able to find what you are looking for?

IWISS #71500 Automotive Air Conditioning Hose Crimping Tool
Air Conditioning Starter Tool Set FJCKIT4 Brand New!
4 in 1 Car Air Conditioning Fuel Lines Quick Disconnect Tool Set
MATCO TOOLS AIR CONDITIONING RATCHETING WRENCH #RW83
7 in 1 Air Conditioning Fuel Line Disconnect OIL Pipe Removal Tool 1/4" to 7/8"