Magnaflow OEM Grade Direct Fit Catalytic Converter (49 State Legal)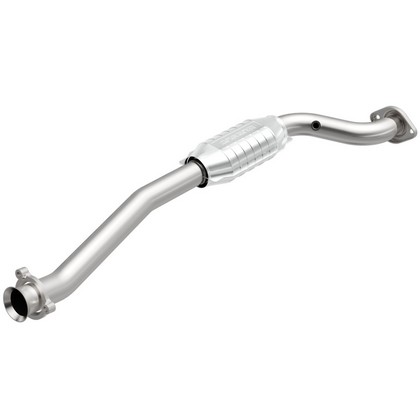 Video Description:


This is an Andy's Auto Sport TV episode where we break down the basics of catalytic converters. We explain the difference between a direct-fit bolt-on catalytic converter and a universal weld-on catalytic converter. We also go over the benefits of getting a new cat, and we even do an installation to show what's involved.
Fits On:

2009 GMC Canyon; 3.7, 5L, 2006 Hummer H3; 3.5, 5L, 2008 GMC Canyon; 3.7, 5L, 2007 Isuzu i-290; 2.9, 4L, 2008 Isuzu i-290; 2.9,... See more

Description:
MagnaFlow Direct-Fit Catalytic Converters are designed for easy bolt-on installation for the Professional Installer. Each is designed to exact the original equipment specifications. While the majority of the Direct-Fit Catalytic Converter products do not require welding cutting or bending limited applications may require additional welding for optimal installation.
MagnaFlow Performance Exhaust is a world leader in the manufacturing of automotive catalytic converters.

MagnaFlow stakes their 25 years of experience and reputation on each and every one of their products. Each new product they develop is personally evaluated by the President of the company and tested by their team of designers and engineers, then field tested to ensure that these products meet their stringent quality and performance standards.

Mario Andretti has joined the Magnaflow team and now stands with them in supporting our conviction that MagnaFlow Performance Exhaust stands alone as a leader in the exhaust business.

In May, 2000, MagnaFlow Performance Exhaust was awarded the ISO-9001 certificate. ISO-9001 is an international quality standard created by the International Organization for Standardization to define quality management and manufacturing systems. It has 20 specific design, material, and process requirements that help MagnaFlow ensure customer satisfaction with their products and services. ISO-9001 certified companies are re-audited every six months to ensure that quality standards are maintained.
Q: What is a hi-flow catalytic converter? Why buy one?
A: All stock catalytic converters are restrictive when it comes to exhaust flow, and they essentially place a choke hold on performance. The hi-flow catalytic converters on the market today have a higher flow capacity than factory units. Still able to pass emissions and gain horsepower, how can you go wrong with a hi-flow catalytic converter?

Q: How do you install a hi-flow catalytic converter?
A: There are two kinds of catalytic converters. The first are direct fit converters (no welding required) which have all necessary flanges and oxygen sensors just like the original equipment catalytic converters. There are also universal fit catalytic converters that are designed to be welded or clamped in place. Universal fit converters have the same flow characteristics as direct fit models with the same inlet and outlet diameter.


Not able to find what you are looking for?

Kinetix Racing High Flow Catalytic Converters for 2003-2006 Nissan 350Z VQ35DE
Kinetix Racing High Flow Catalytic Converters for 2007-2009 Nissan 350Z VQ35HR
Ford Escape 3L Pair Manifold Catalytic Converters 2001-2006 EPA OBDII
Kinetix Racing High Flow Catalytic Converters for 2003-2008 Infiniti FX35 VQ35DE
Toyota Matrix 1.8L Catalytic Converters 2003 2004 2005 Direct Fit OBDII