"Magid® PowerMaster®" Low Voltage Leather Lineman's Protector Gloves, Size 8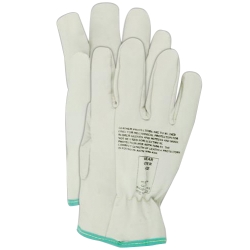 Fits On:

Description:
Features and Benefits:

•Use with same size Class 0 rubber insulating glove
•Offer no protection from high voltage, must use with rubber insulating gloves
•Grey Pearl Kid Leather with elastic on back
•Manufactured in USA
•9-1/2 inch length

Leather linesman gloves should always be worn over rubber insulating gloves to provide protection against cuts, abrasions and punctures. On their own, these gloves offer no protection against low or high voltage. Their purpose is to extend the life of the rubber insulating glove worn under them. Meets ASTM Standard F696-91.
Not able to find what you are looking for?

Cruiser Apparel Stand Mover Garage Motorcycle Motorcross Trials Heavy Duty
Front Bike paddock Stand Wheel Lift Chock Garage Motorcycle Apparel Cruiser
Apparel Mustang T-Shirt Short Black Fox Body Garage Large
Apparel Gift T-Shirt Short Sleeve Black Fox Garage XX-Large
Apparel Mustang T-Shirt Short Black Fox Body Garage Medium