EXTERIOR
INTERIOR
LIGHTS
PERFORMANCE
SUSPENSION
BRAKES
DRIVETRAIN
AUDIO
WHEELS
GARAGE
Legacy FM Modulator For DVD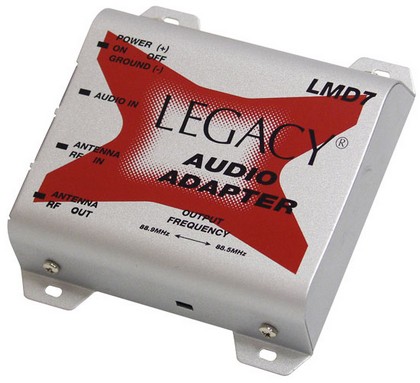 Legacy FM Modulator For DVD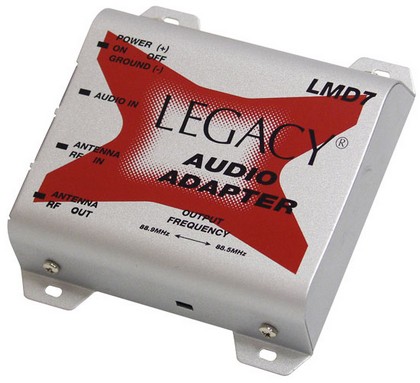 Legacy is a high-end audio company whose focus is bringing the best possible sound quality into the car audio environment. Based in Springfield, Illinois they have achieved an amazing reputation for quality and performance from all of their audio products. With over two decades of experience in audio component design and sales the folks at Legacy are true audio experts. The Legacy catalog covers all the bases from amplifiers to speakers, meaning it is possible to build up your entire system from Legacy components. They stand behind their products with strong warranties and offer great customer service to guarantee that customers leave satisfied and only return when it is time to upgrade their audio system. If you want the finest sound for your vehicle look no further than Legacy.
Q: What are the different types of cables I might need for a custom audio or video setup in my vehicle? What does each type do exactly?
A: There are several different types of cables involved in a custom car audio setup. Plain old electrical wire is often used to hook up your head unit to a 12 volt power source however amplifiers use much heavier gauge power wires because they are high power applications. Most power wires are red in color and ground wires should be black in color to avoid confusion. Remember don't skimp out on the ground wire, make sure it is large and high quality to ensure your system keeps working right. Speaker wire or speaker chord is a specialized form of woven copper wire used to connect your speakers to the rest of the system. These wires come in pairs (two wires connected side by side) and are sometimes bare on the end but often times have male RCA style end-fittings. Often times recognized by its transparent insulation it usually comes in a large gauge for better sound quality. Patch cables are thick paired cables with male RCA style fittings used to connect various car audio components but most commonly used to connect the head unit to the amplifier. Remember when you see RCA connectors if they are red and white that usually indicates an audio signal and yellow indicates a video signal. There are also cables that allow you to run an iPod into your head unit that consist of a small chord with 1/8" male stereo connectors (like your iPod headphones have) on either end. One end goes into the iPod output and the other end plugs into your car stereo's accessory input.