EXTERIOR
INTERIOR
LIGHTS
PERFORMANCE
SUSPENSION
BRAKES
DRIVETRAIN
AUDIO
WHEELS
GARAGE
Lanzar Optidrive 60 Farad 16 Volt Amplifier Style Hybrid Capacitor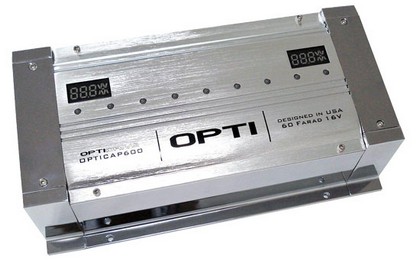 Fits On:

All Jeeps (Universal), All Vehicles (Universal)
Description:
Chrome Plated Case
Silver Brushed Anodized Aluminum Top
Dual Blue Digital Display
Flashing Blue LED Light Diodes
Amplifier Style Badge
Packaged in a hinged wooden block
Dimensions: 11.52''L x 6.65''W x 3.03''H
Lanzar is a Brooklyn, NY based car audio company that has been in the game for several decades. Their mission is to offer great customer service and top-notch car audio components without compromise. Lanzar utilizes several demonstration vehicles to showcase their products and they have a nice trophy case to show how their gear stacks up in competition. With a product range that covers the entire car audio spectrum Lanzar works hard to keep their products affordable for the budget conscious consumer who still demands high-quality sound.
Q: What does Farad mean when it comes to power capacitors? How do I know which is best for me?
A:
A Farad is a means of rating the power of a capacitor. Similar to how wattage is used as the power rating system for amplifiers, farads are used for capacitors. Because a capacitors job is to take some of the load off of the battery when you are running high-powered amplifiers, you will need to match the capacitor to the power output of the amplifier. A good general rule of thumb is that for every 500 - 1000 watts of amplifier you are running you will need roughly 1 farad for the capacitor. So if you are running 3000 watts of amplification you will need a 3+ farad capacitor.
Q: What does a Power Capacitor do? Why buy a Power Capacitor?
A:
A power capacitor is a device used in your car audio setup to act as a buffer between your car battery and amplifier. Wired in line between the battery and amp it works by storing up energy from the battery so that when a drop in system voltage is detected it can temporarily release the stored energy to the amplifier. This helps to stabilize voltage across the system and will extend the life of your car audio components, especially amplifiers. It is important to match your capacitors power capabilities to that of your amplifier.
See all 3 questions & answers